In recent years, there are clear signs of an accelerating speed of AI diffusion and development across society. This calls for action to anticipate and identify policy needs to prepare for the future of AI. Outlining a national AI strategy is far from an easy task, given the numerous perspectives from which the transformative nature of AI can be explored.
Methodology
In order to provide a synthetic overview of what is happening in Europe in terms of national AI strategies and to show progresses made in the strategies' implementations, the following methodology will be followed to gather information on EU Member States' AI policies:
Collecting EU Member States strategies and initiatives on AI;
Developing a common Policy Framework on AI;
Monitoring the progress of MSs in developing strategic actions and policy measures for the creation of vibrant AI ecosystems.
Figure 2 presents an overview of the various steps to monitor the implementation of EU Member States National AI Strategies and initiatives in the European Union.
Figure 2. Methodology to collect EU Member States National AI Strategies and initiatives

Source: JRC – European Commission
The common Policy Framework on AI aims at identifying the main building blocks of the policy initiatives presented in national AI strategies of EU Member States. One of the main advantages of this conceptualisation approach is to emphasize the different layers and structural elements of AI and to highlight the numerous policy perspectives from which AI can be explored. It aims to facilitate the allocation of policy initiatives to their respective policy aims in order to conduct cross-comparisons of national AI strategies.
Policy framework on AI
The policy initiatives identified in the AI national strategies relate to the following policy areas: human capital, from the lab to the market, networking, infrastructure and regulation. Initiatives categorised as human capital target all policies to foster the educational development of people in using and developing artificial intelligence solutions. It includes aspects of formal education and training (e.g. reforms of educational systems towards inclusion of AI courses and programs), vocational and continuing learning (e.g. training of existing workforce to obtain AI-related skills and competences), and labour market intelligence and needs (e.g. identifying forthcoming skill needs due to changes in technology developments). From the lab to the market encompasses policy initiatives to encourage research and innovation in AI towards business growth in the private sector and increased efficiency of public services. This section also includes policy instruments to facilitate testing and experimenting newly developed AI pilots and services. Networking presents all policy initiatives related to AI collaborations across private and/or public sectors and directed to increasing the (inter)national attractiveness of the country (e.g. policies aiming at attracting foreign AI talented individuals and firms to the focal country). This category also includes policies related to the dissemination and uptake of AI such as promotion campaigns and mapping of AI players and applications. Regulation highlights policies for the development of ethical guidelines, legislative reforms and (international) standardisation. Finally, infrastructure covers initiatives to encourage data collection and responsible usage of it, and to foster the digital and telecommunication infrastructure.
Table 3 presents the common Policy Framework on AI. This conceptual framework should serve as guideline to classify existing policy initiatives to their respective objectives, with a clear distinction among policy initiatives relevant to the private or public sector.
Table 3. Policy framework on AI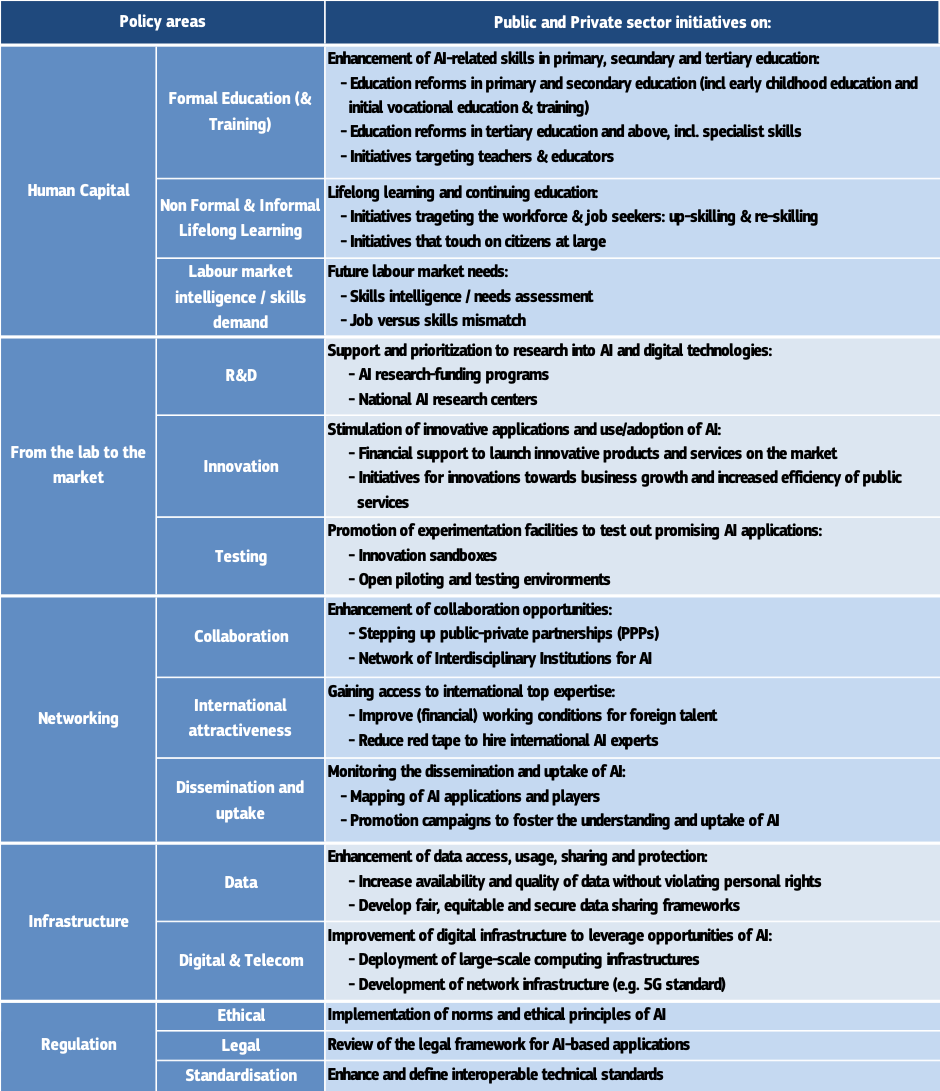 Source: JRC – European Commission
National strategies on Artificial Intelligence A European perspective in 2019