Brief me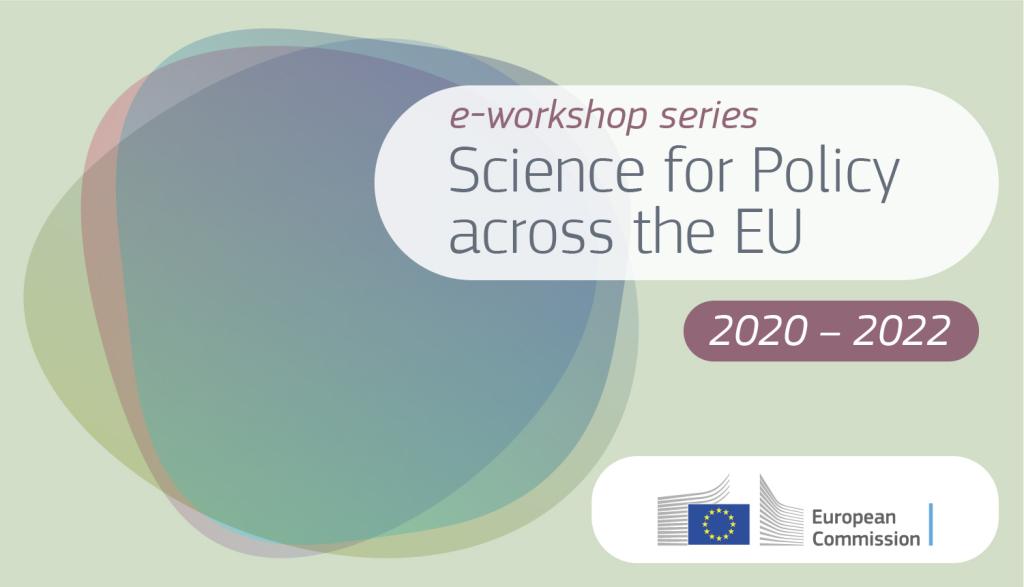 Why we do this 
The Covid-19 pandemic has arguably highlighted the importance of robust scientific advice to policymakers. As part of the JRC's efforts to promote sound evidence-informed policy-making across the European Union, a series of short, virtual workshops about 'science for policy ecosystems' will be organised between September 2020 and September 2022. 
The workshops give opportunity to
take stock, discuss and exchange experiences
co-create ideas and projects for structures, mechanisms and instruments for strengthening evidence-informed policy-making across Europe
For whom
Between September 2020 and September 2022, this series of workshops has brough together policymakers, civil servants, academics, and experts from across Europe. 
Member state governments
Regional and local authorities
National parliaments and regional legislative assemblies
Civil society organizations
National academies
Science-policy interface organizations at international/European level: INGSA, ESAF, OECD, SAPEA, ALLEA
Entities engaged in science communication
 
What we do exactly
Single-element workshops
For an audience with a specific interest in a particular part of the multi-faceted evidence for policy ecosystems as it is applied across EU countries
"Single element" workshops
8th Sept 2020     "Science for policymaking at the centre of national government"
7th October 2020  "Science for policymaking in Parliaments"
4th November 2020 "Science for policymaking by national academies"
2nd December 2020  "Science for policymaking by Public Research Institutes and Universities"
23rd March 2021 "Science for policymaking in regions and cities"
Single-ecosystem workshops
For a group of officials and science for policy professionals from one Member State who discusses - with a group of international experts - one Member State's ecosystems good practices, lessons learned, success factors, and bottlenecks.
20th October 2020 "Science for policymaking in Belgium"
9th March 2021 "Science for policymaking in Estonia"
22nd April 2021 "Science for policymaking in Denmark"
19th May 2021 "Science for policymaking in Latvia"
29 September 2021 "Science for policymaking in Greece"
16 November 2021 "Science for policymaking in Portugal"
23 November 2021 "Science for policymaking in Lithuania"
19 May 2022 "Science for policymaking in France" (event information, here)
Past workshops synopses
 This "single-ecosystem" workshop is organized around a group of officials and science for policy professionals from one Member State who discuss - with a group of international experts - one Member State's ecosystems good practices, lessons learned, success factors, and bottlenecks. 
This event will be about Greece. Please find below the agenda, the survey, and a discussion paper that describes the actors involved in science for policy processes in Greece and the challenges encountered in the ecosystem
Agenda
Survey
Discussion paper
For the time of this workshop, a draft discussion paper document was shared among attendees.
Months later, the JRC released the official report "The Greek ecosystem of science for policy" and is available in the links below:
Visit official publication page
For more information and/or to register: 
On 19th May 2021, we welcomed more than 60 participants to the workshop, about half of which came from Latvia's ecosystem, the other half joined from other countries.
After facing some technical difficulties that affected both our keynote speakers 
Ilga Šuplinska, Minister of Education and Science, Latvia (see her statement attached below)
Jānis Citskovskis, Director, State Chancellery, Latvia,
our panel embarked on a rich discussion on key ingredients for better science for policy institutions 
Iveta Kažoka, Director, Providus – Centre for Public Policy, Latvia
Liina Eek, Estonian Research Council
Mark W.J. Ferguson, Director-General of the Science Foundation Ireland, Chief Scientific Advisor to the Government of Ireland
This was followed by discussions among the participants in five break-out groups, revolving around the following challenges: 
The Latvian science for policy ecosystems is at an early stage of development. Room for improvement can be identified both along the institutional and individual dimensions.
Institutionally, it was in particular pointed out that on the side of science supply, there is an unevenly distributed capacity for high quality research (as a result of limited funding of R&I in general and a lack of collaboration between scientists). On the policy demand/user side, while policy demand for scientific knowledge has been described as growing, demand varies between policy areas/ministries and scientific knowledge is not always taken up or has impact in more strategic policymaking processes and at the highest level of policymaking (ministers; Members of Parliament). This is partly because of limited capacity for absorbing and processing scientific evidence in ministries but was also by some participants attributed to highly politicised policymaking processes and a distrust of society vis-à-vis science.
Individually, a need to further develop competencies both on the side of policymakers (in absorbing, processing scientific knowledge) and researchers (in science communication and policy engagement) were noted. Moreover, the relationship between scientists and policymakers was seen as sometimes lacking mutual trust.
Some positive cases demonstrate how Latvia is developing its science for policy capacity, including the role of the Cross-Sectoral Coordination Centre of academic research to inform policy decisions on COVID-19 and the centralised repositories of government-commissioned research.
In view of the challenges, the following ideas for reform were proposed. In terms of institutions, benefits were seen in creating a single, coordinating contact point and advocate for science for policy in the executive, such as a Chief Scientific Advisor, along with the need to internationalise science for policy processes (peer review processes, best practice at science-policy interface), e.g. by setting up a Baltic-Nordic Science for Policy network. In terms of individuals, training modules should be made available (e.g. adapting the JRC course for policy impact of scientists) to both scientists and administrations, including courses on science communication to citizens – along with additional opportunities to build trust via pairing and fellowship schemes between scientists and policymakers.
On 22nd April, we held a workshop on "Science for Policymaking in Denmark", the 3rd country-specific workshop in our series (after Estonia and Belgium), organised jointly with the Danish Council for Research and Innovation Policies (DFiR).
 We welcomed 70+ participants over half of which came from different corner of the Danish science for policy ecosystem.
Before the interactive break-out discussions, we had a number of insightful presentations on the Denmark's and Finnish science for policy institutions and processes, as well as the broader results from the JRC ecosystem project in relation to the DK ecosystem:
Frede Blaabjerg, chair of DFiR and Danish representative in ESAF
Hans-Peter Olsen from the Danish Ministry of Food, Agriculture, and Fisheries
David Budtz Pedersen from Aalborg University
Risto Alavartas from the Finnish Prime Minister's Office
JRC ecosystem team.
 The break-out session then complemented these insights in a rich manner - with three key insights.
The Science for Policy ecosystem in Denmark is diverse and complex. A major scientific reform was undertaken in 2007 that led to the integration of most permanent advisory bodies attached to ministries into universities. As a consequence, framework contracts with a duration of normally four years between ministries and universities became a central instrument for science for policy. These collaborative frameworks have proven successful to foster both scientific excellence and better communication channels between policymakers and scientists. However, they have also been associated with shortcomings in the Danish ecosystem, such as loss of knowledge brokerage skills or the lack of a long-term knowledge base and institutional memory.
The Danish science for policy ecosystem faces certain challenges such as unequal access, demand and absorption capacity for scientific evidence across government departments; lack of transdisciplinary and cross-sector scientific advice; lack of science for policy skills in both scientists and policymakers; media pressure; and risk of politicisation. The establishment of formal science for policy channels such as permanent advisory bodies attached to the Prime Minister Office, to each ministry or on certain topics of socio-political interest (climate change, public health, and others) to complement the more competitive set-up of framework contracts is an opportunity to explore. Such bodies may provide a better knowledge base and institutional memory across all policy issues, improve capacity to absorb evidence within ministries, develop more systematically and sustainably knowledge brokerage skills of researchers, and proactively provide evidence and practices to better connect government and academia.
The context in which the current ecosystem is embedded offers a great overall opportunity to further improve the science for policy ecosystem. Firstly, Denmark has a high GDP percentage for R&D, although it has decreased in the last years. Secondly, the Covid-19 pandemic has demonstrated the importance of scientific evidence for policymaking. Thirdly, there is high public trust in science. And fourthly, there are already mechanisms and procedures in place, especially at universities, to ensure research impact on policy.
Upcoming workshops
For 21st September 2023, for the first time, we turn this online workshop series into a one-full day in-person event for the next workshop in Madrid (Spain).
Science for policymaking in Spain
To Register
Are you working at national, regional, and local level in government, parliament, academia or civil society on improving the use of scientific evidence for policy-making?
Would you like to learn more about Europe's best practice in evidence-informed policy-making?
Would you be interested in developing your ideas and projects for stronger science for policy ecosystems with like-minded professionals from all over Europe?
Contact us
If you have any questions or comments, do not hesitate to contact us.
Latest knowledge from this Project
More information
Recommended reading
ONLINE RESOURCE | 04 May 2021
The EU Policymaking Hub is a professional development programme for policymaking in the European Commission. It offers a platform for collaboration, learning and knowledge in policymaking as well as a framework and a guide for skills...
PUBLICATION | 21 Nov 2018
In the light of better and more detailed administrative databases, this open access book provides statistical tools for evaluating the effects of public policies advocated by governments and public institutions...