Search results (591)
Showing results 1 to 10
Digital Europa Thesaurus
public policy
The two Thematic Strategies will guide FAO's work in these areas until 2031.
An ambitious draft bill to cut food waste has been approved by the Spanish government.
Toward Re-Entanglement: A Charter for the City and the Earth is a global call to action for the healthy and regenerative re-connection of human activity with the Earth's natural systems. The history of human-kind has seen...
Learn more on EU policies relevant to the bioeconomy: key strategies, legislations and financing instruments in one place!
The Commission launched a public consultation on the revision of the Waste Framework Directive, including setting of EU food waste reduction targets.
We've just launched our first community on Knowledge4Policy. Let's use it to build a better platform.
Discover the work of Mobile Learning Hubs in different Baltic countries in identifying ways in which bio-circular-economy serves as a driver for regional development.
The Global Forest Trade Model (GFTM) is a partial equilibrium model of the global forest sector, with a European focus. GFTM shares the classical economic-mathematical formulation used by similar...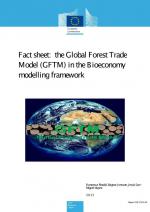 The report summarises the findings of 49 systematic reviews identified through a search of published literature, reporting on the acceptability and efficacy of population-scale initiatives to reduce fat, salt and sugar...