The European Commission established a High-Level Expert Group (HLEG) to assess the needs and options for strengthening science–policy interfaces for improved food systems governance1. The HLEG concluded that food system transformation, needed more than ever due to the current food crisis triggered by the invasion of Ukraine, must be better supported through ambitious, interlinked science–policy–society interfaces. While elements of these interfaces exist, much more is needed. The HLEG makes the following recommendations:
multilateral governance organisations, such as the European Commission and the UN, should fully adopt a food system lens in all their investments and activities – one that links food producers through to processors and consumers by empowering all relevant stakeholders, diverse voices and geographical regions;

in adopting a food system lens, governance organisations, including national governments and regional bodies, should work collectively to connect stakeholders across all scales, convene regular multistakeholder dialogues, anticipate trends, set targets, articulate policy options, debate progress to fuel action at different levels and address trade-offs;

in terms of the global community, the current landscape of science–policy–society interfaces must be strengthened to engage a wider range of voices, integrate data, anticipate trends and set targets and standards.
To support these ambitions, the HLEG proposes three pathways.
RECOMMENDED PATHWAY 1: adapt the current landscape to include additional resources and broader mandates. Multilateral governance (e.g. cooperation between the European Commission and the UN) should strengthen and adapt existing science–policy interfaces using additional resources and under a broader mandate for engagement across sectors and scales.
RECOMMENDED PATHWAY 2: enhance the current landscape with multisectoral task forces. Multilateral institutions should cooperate with participating countries to fund a series of dedicated task forces to fill knowledge and data gaps.
RECOMMENDED PATHWAY 3: coordinate agendas by creating a 'network of networks'. The European Commission, the UN, UN agencies and other multilateral institutions should collectively invest in a global network coordination hub to build capacity, convene regional assessments, and develop forecasts and models to envision potential futures and identify trends.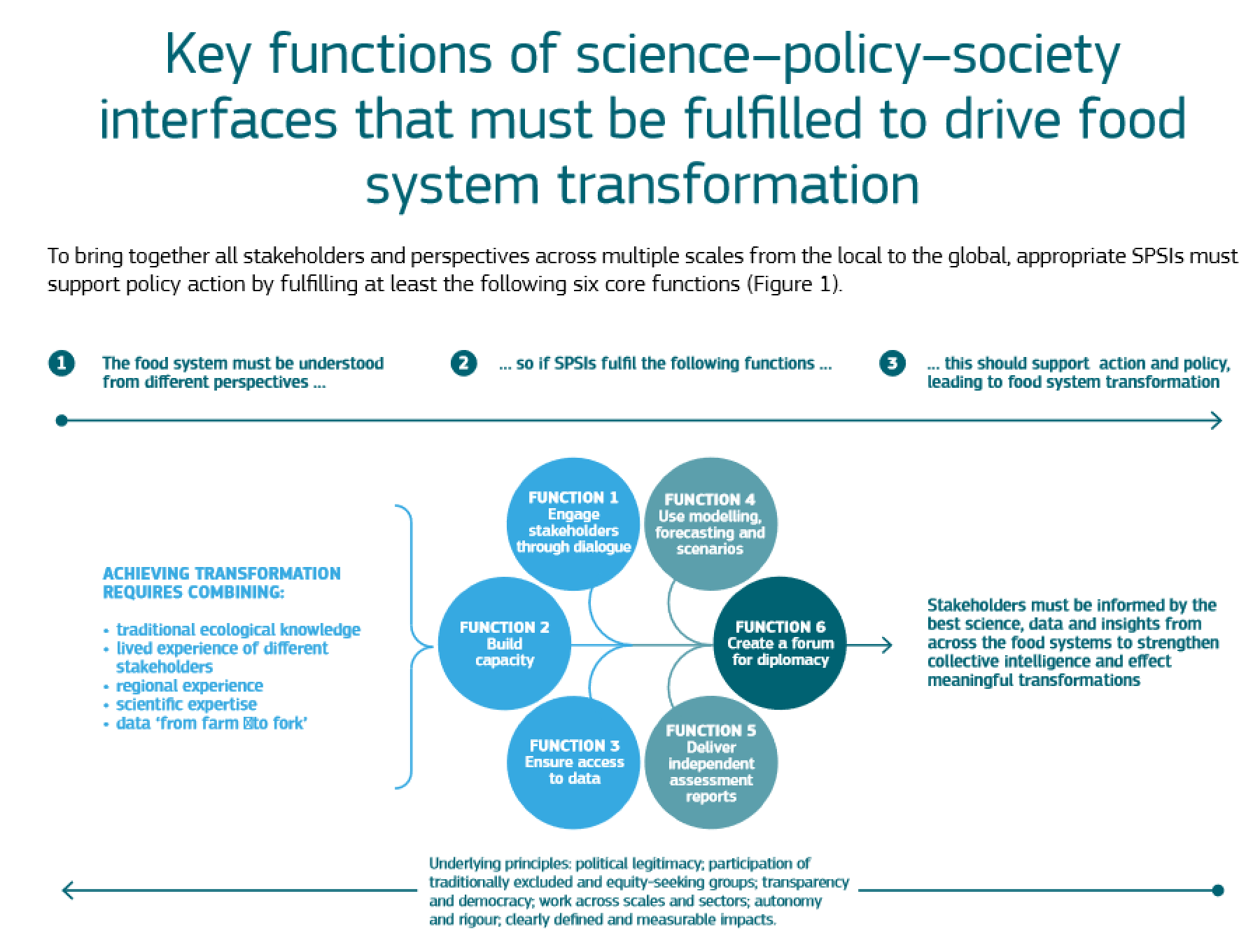 One of the greatest challenges humanity faces is feeding the world's human population in a sustainable, nutritious, equitable and ethical way under a changing climate. Urgent transformations are...
A report by the UN Environment Programme (UNEP) in 2021.