Biodiversity
 

HORIZON EUROPE

HORIZON EUROPE (2021-2027) will succeed Horizon 2020. The strategic planning process is in particular focused on the Global Challenges and European Industrial Competitiveness pillar of Horizon Europe. The Global Challenges pillar includes seven Cluster. The biodiversity topic will particularly be supported under Cluster 6 'Food, Bioeconomy, Natural resources, Agriculture and Environment', that includes developing a long-term research agenda for biodiversity. Over 100 Research and Innovation actions will support the objective of halting biodiversity decline and restoring ecosystems, in three main destination schemes:

HORIZON EUROPE - Destination Schemes

Destination 1: Biodiversity & Ecosystem Services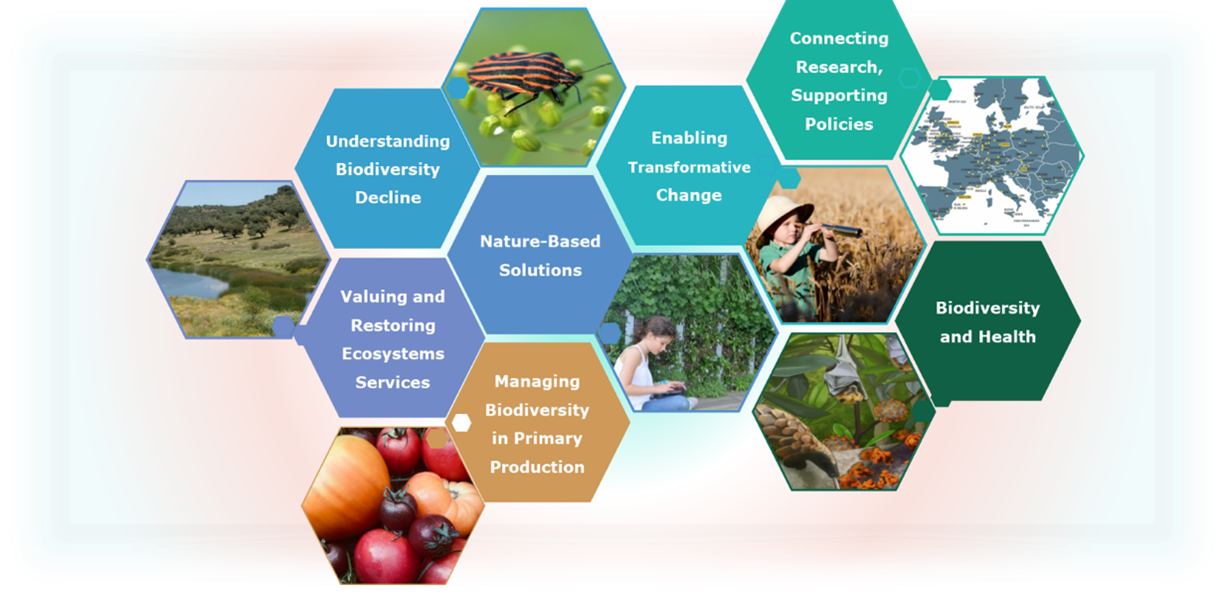 Destination 6 – Resilient, inclusive, healthy and green rural, coastal and urban communities
Destination 7 – Innovative governance, environmental observations and digital solutions in support of the Green Deal
European Research Area and Partnership on Biodiversity
The Research framework programs are complemented by measures to further develop the European Research Area (ERA ) in order to create a single, borderless market for research, innovation and technology across the EU, help countries be more effective together and enable the free circulation of researchers and knowledge.
Download the new European research area based on excellence competitive, talent-driven and open (published 2020-10-01).
The European Partnership on Biodiversity proposes co-fund actions from the European Commission and the Member States on "Rescuing Biodiversity to Safeguard Life on Earth" with 4 main goals, and 4 working areas.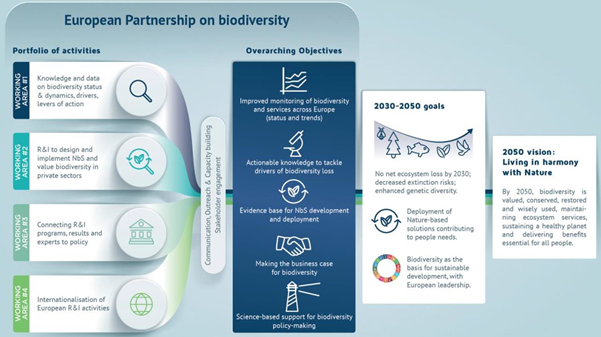 Work Area 2 includes the Nature based Solutions (NbS) Task forces to contribute to biodiversity and climate mitigation, but also to sustainable communities, air pollution and microclimate, water quality, floods mitigation and coastal resilience. They will also address impact assessment as well as Governance, Business Models and Financial Mechanisms.
The Copernicus European Program
The Copernicus is the European Program for the establishment of a European capacity for Earth Observation. The Marine, Land, and Climate Change services contribute to the protection and sustainable management of living resources and supports a wide range of marine and terrestrial environment applications, some of direct relevance to biodiversity and ecosystem services.
Calls and grants under EU funded biodiversity projects
Several Horizon 2020 projects are contributing to the EU biodiversity strategy and some in their last year, are still launching/have launched calls for proposals or are offering grants.
The BiodivERsA ERA-NET Co-fund action, is the EU network of (25) research ministries and (39) funding agencies promoting a common, forward-looking vision for overcoming fragmentation in biodiversity research. Since its beginning in 2005, BiodivERsA has launched 8 calls for proposals for a total amount of 197 million euro (including 125 million euro of money directly raised by BiodivERsA partners and the European Commission) to fund around 104 pan-European research projects selected for both their scientific excellence and societal/policy relevance.
The BIG4 project is more about biodiversity, education and business. It is a global consortium addressing biosystematics, informatics and genomics of the four largest insect groups represented by beetles, bees, flies and butterflies. They are offering training programs for the new generation of researchers and entrepreneurs.
HORIZON 2020
Horizon 2020 is the biggest EU Research and Innovation (R&I) program ever with nearly €80 billion of funding available over 7 years (2014 to 2020) – in addition to the private investment that this money will attract. It is divided into 3 pillars and 2 specific objectives corresponding to its main priorities:
The Excellent Science part supports the world-class science in Europe, by developing, attracting and retaining research talent and supporting the development of the best research infrastructures.
The Industrial Leadership pillar supports key technologies, such as advanced manufacturing, etc. across existing and emerging sectors. It also aims at attracting more private investment into R&I and supporting the increase of innovative SMEs in Europe.
The pillar of Societal Challenges supports R&I that target society and citizens (climate, environment, energy, transport, etc.). It supports the development of breakthrough solutions coming from multi-disciplinary collaborations, which include social sciences and humanities.
Horizon 2020 - Societal Challenges
1. Health, demographic change and wellbeing
2. Food security, sustainable agriculture and forestry, marine, maritime and inland water research and the bioeconomy
3. Secure, clean and Efficient Energy
4. Smart, green and integrated transport
5. Climate action, environment, resource efficiency and raw materials
6. Europe in a changing world – inclusive, innovative and reflective societies
7. Secure societies
5% of the Horizon2020 budget is dedicated to biodiversity related research and over 70 cities were involved in Nature based solutions demonstration projects. Biodiversity relevant grants are mainly found under the Societal challenges 2 and 5. For more information, download the two flyers (published 2020-05-26):
Research & innovation key driver of the biodiversity strategy  
Research & innovation key driver of the farm to fork strategy
Horizon 2020 European Green Deal Call
In 2020, the European Commission launched a €1 billion call for R&I projects that respond to the climate crisis and help protect Europe's unique ecosystems and biodiversity. This Green Deal Call differs in important aspects from previous Horizon 2020 calls. Given the urgency of the challenges it addresses, it aims for clear, discernible results in the short to medium-term, but with a perspective of long-term change. There are fewer, but more targeted, larger and visible actions, with a focus on rapid scalability, dissemination and uptake.
The projects funded under this call are expected to deliver results with tangible benefits in ten areas:
Eight thematic areas reflecting the key work streams of the European Green Deal and two horizontal areas - strengthening knowledge and empowering citizens, which offer a longer-term perspective in achieving the transformations set out in the European Green Deal.

The Area 7 has a dedicated biodiversity topic (Video: Info Session Area7. Restoring Biodiversity and Ecosystem Services). Other Areas, like Area 1 on Climate and Area 6 on food systems, include calls relevant to mainstreaming biodiversity into cross-sectorial policies. Areas 9 and 10 are particularly relevant to enable transformative change on biodiversity.
(work in progress, under development)