Brief me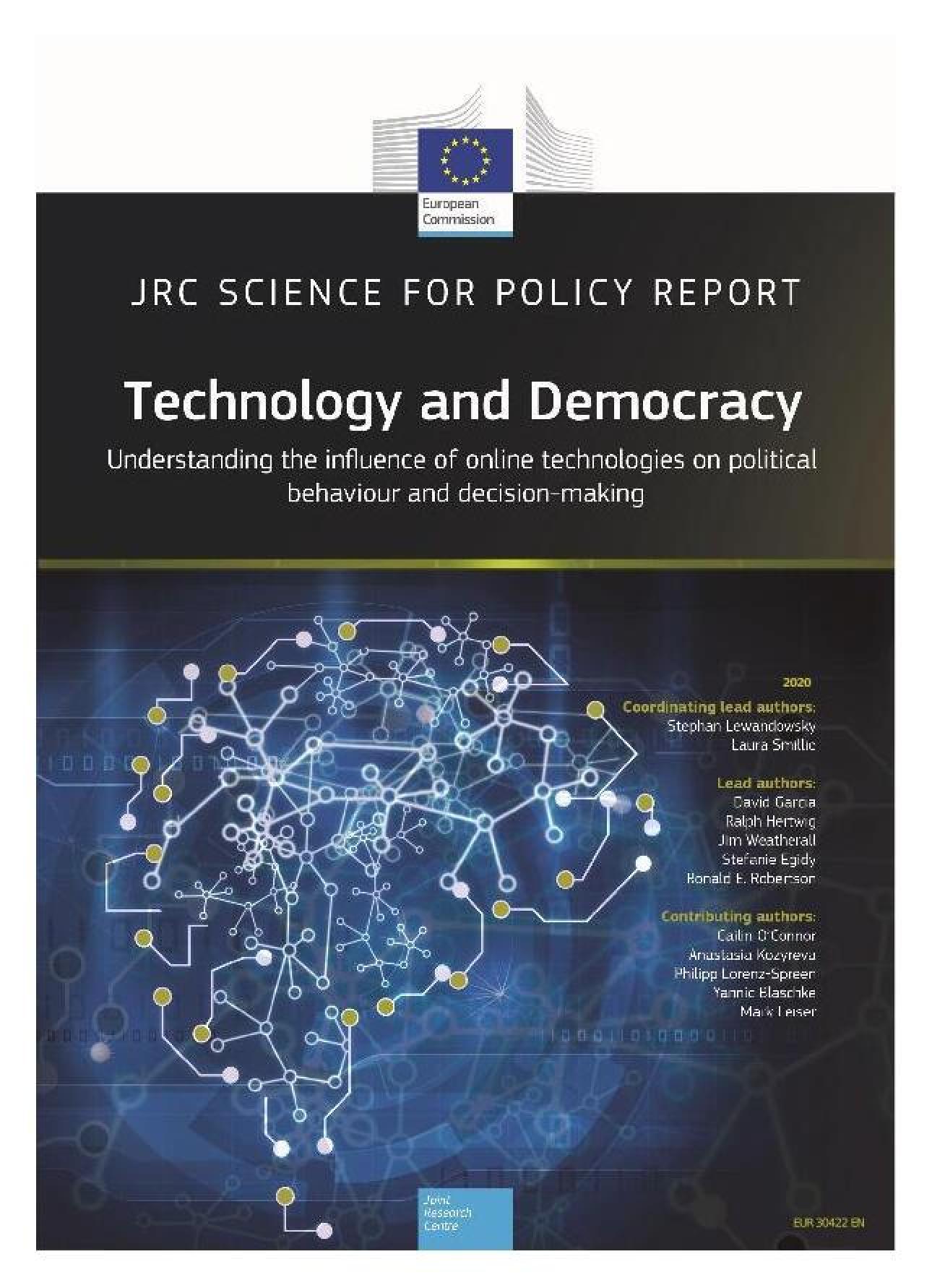 The democratic foundations of our societies are under pressure from the influence that social media has on our political opinions and our behaviours, according to this JRC report. 48% of Europeans use social media every day or almost every day. As well as being helpful tools to stay informed, be entertained, shop and stay close to our friends, these platforms have revolutionised the way we experience politics by engaging more citizens in the political process and enabling minority voices to be heard.
But these platforms also allow polarising messages and unreliable information to be spread easily. This can limit our perspectives and hamper the ability to make informed political decisions. As the report finds, this has a dangerous impact on democratic societies.
In "Technology and Democracy: understanding the influence of online technologies on political behaviour and decision-making" an international team of experts takes a behavioural science approach to investigate the impact of online platforms on political behaviour.
Key findings
The report identifies 4 key "pressure points": challenges that emerge when we interact politically on online platforms that are not subject to much public oversight or democratic governance.
Attention economy
User attention and engagement are sold as products to advertisers.
The private organisations running the online services have become very adept at capturing and keeping that attention.
Political views and actions can be shaped without users realising what is behind that influence.
Choice architectures
Social media platforms use several behavioural techniques to encourage people to constantly engage and share, with settings and options that make it much more complicated to leave a platform than to sign up to one.
Online users are generally unfamiliar with what data they produce and provide to others, as well as how that data is collected and stored. 
Algorithmic content curation
The algorithms that sort through and select online information are so complex that even their developers have a hard time explaining them.
This raises obvious problems for transparency and accountability.
This is especially problematic because these algorithms can encourage polarised discourse or stop users from receiving certain information.
Misinformation and disinformation
Over half of the population say they come across fake news online at least once a week.
Behavioural science shows that people have a predisposition to orient towards negative news.
When coupled with algorithms that promote content with a high level of engagement, online platforms can easily amplify the reach of false and misleading information.
This is particularly concerning when false and misleading information have the potential to set the political agenda, incentivise extremism and ultimately lead to a "post truth" world in which facts have less influence in shaping public opinion than emotion and personal belief.
A valuable report 
The report provides insights from behavioural science for policymakers that can be applied in several areas, from tackling misinformation and disinformation, to safeguarding electoral processes and facilitating public discussion.
Looking to the future, the report also employs strategic foresight to set out possible future scenarios for the European information space in 2035, to help policymakers envisage how choices made now could shape, and be shaped by, the future of our societies.
Scientists explain their work
In a series of videos, a few authors speak about this report, second output of Enlightenment 2.0. The Research Programme seeks to understand the other drivers that influence political decision-making.
Laura Smillie - Technology and Democracy
Latest knowledge from this Project
ORGANISATION | 02 Mar 2023
ONLINE RESOURCE | 21 Feb 2023
More resources
More information
Recommended reading
2-day professional training course material on assessing science, understanding policymaking processes, and gaining insight into the interaction between the different paradigms in which scientists, policymakers, and politicians...
NAVIGATION PAGE | 11 Jun 2021
NAVIGATION PAGE | 05 Jul 2021