Tools provided by the European Commission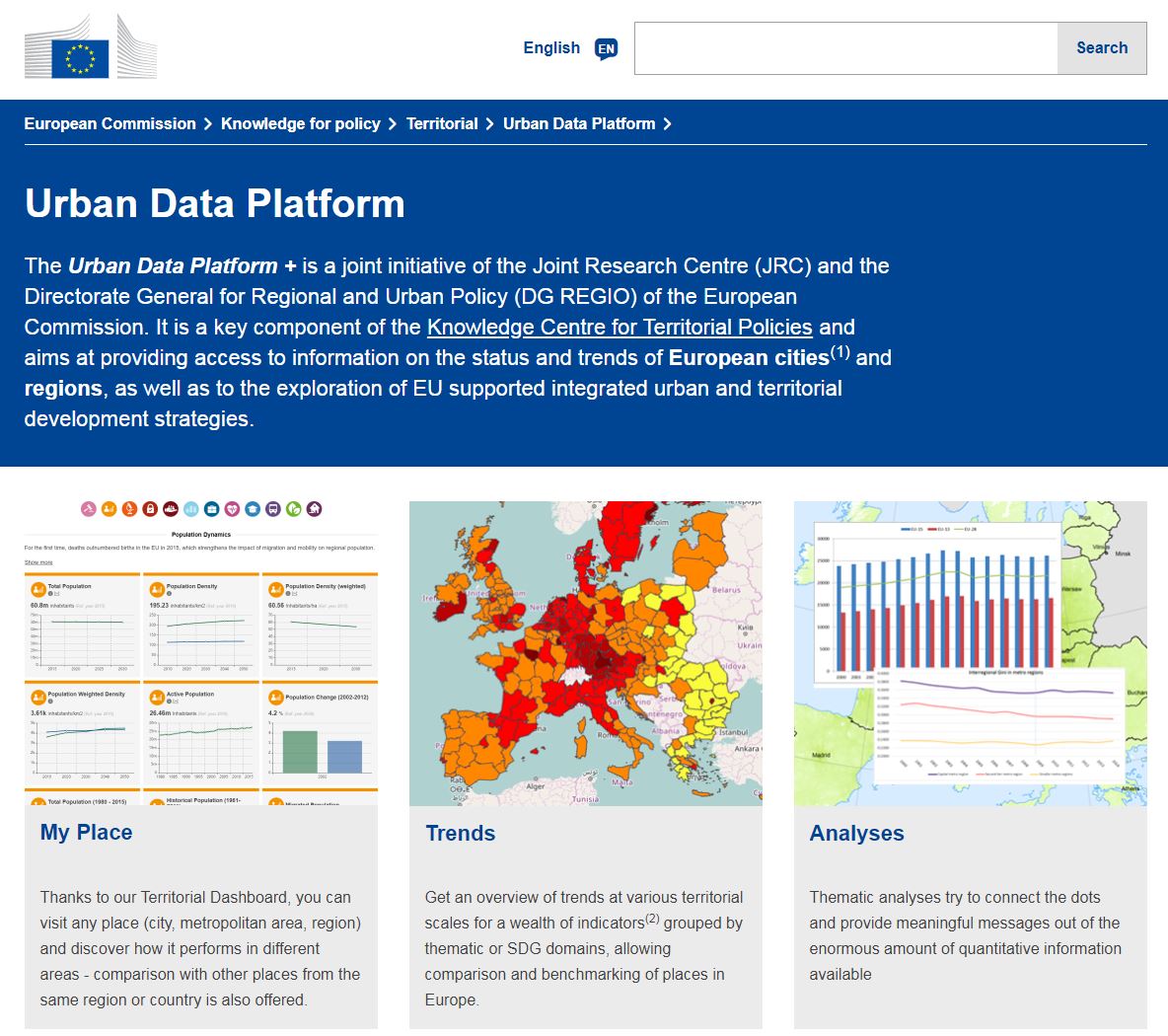 Urban Data Platform plus (UDPplus) is a joint initiative of the JRC and DG REGIO. It provides a 360 degrees overview on the status and trends of European cities and regions. It aims to aid decision-makers, policy analysts and other stakeholders:
in monitoring/analysing cities and urban areas in certain thematic fields,
in achieving robust analyses with tables, graphs and maps, 
in reaching/acquiring data for a large set of cities
UDPplus provides access to statistical and modelled indicators covering the following topics:
Economy
Education
Employment
Energy
Environment and Climate
Governance
Health
Urban Development
Population Dynamics
Research & Innovation
Security
Social Issues
Transport and Accessibility
Data are available at the following geographical levels:
Cities/Greater Cities
Urban Centres (worldwide)
Functional Urban Areas
Metropolitan Regions
Time-series graphs by degree of urbanisation are also available.
_________________________________________________________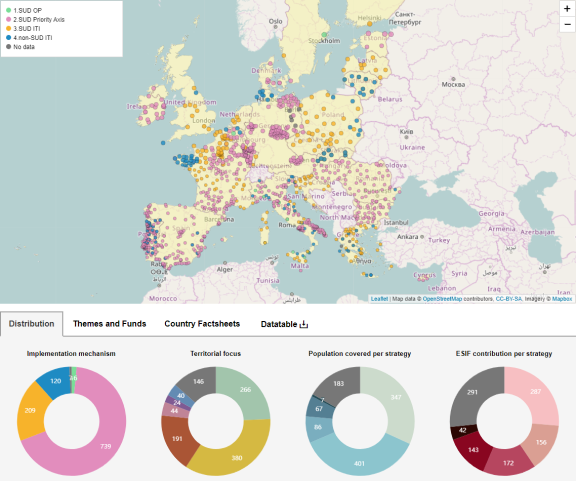 STRAT-Board is an interactive tool - part of UDPplus - that provides a visual overview of Sustainable Urban Development (SUD)  and Integrated Territorial Investment (ITI)  strategies currently implemented across Europe.
_________________________________________________________
The Cultural and Creative Cities Monitor is designed to help national, regional and municipal policy makers identify local strengths and opportunities and benchmark their cities against similar urban centres using both quantitative and qualitative data.
The Cultural and Creative Cities Monitor is thus an instrument to promote mutual exchange and learning between cities. For researchers, the pool of comparable data is expected to generate new questions and insights into the role of culture and creativity in cities' social and economic wellbeing.
This platform allows users to browse the 168 selected cities and the quantitative and qualitative information about their performance in the Countries and Cities pages.
_________________________________________________________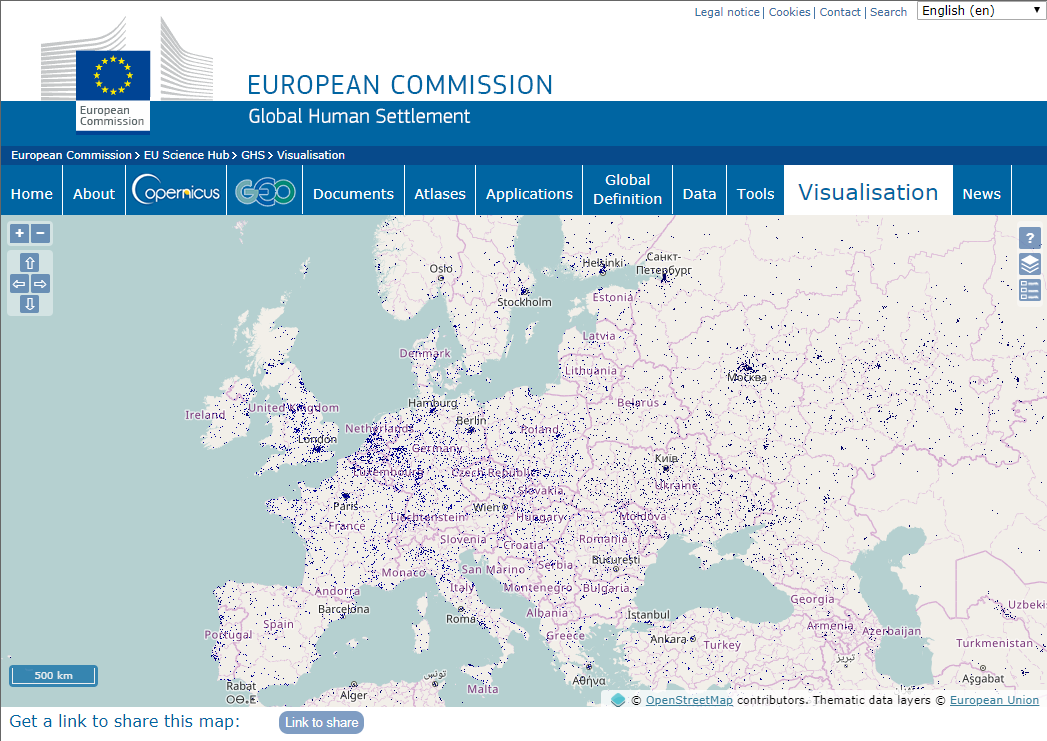 The Global Human Settlement (GHS) framework produces global spatial information about the human presence on the planet over time. This in the form of built up maps, population density maps and settlement maps. This information is generated with evidence-based analytics and knowledge using new spatial data mining technologies. The framework uses heterogeneous data including global archives of fine-scale satellite imagery, census data, and volunteered geographic information. The data is processed fully automatically and generates analytics and knowledge reporting objectively and systematically about the presence of population and built-up infrastructures.
_________________________________________________________
Eurostat - Regions and Cities Illustrated (RCI)
This video explains the difference between the Statistical Atlas and Regions and Cities Illustrated by showing some of the functionalities and options available in the two tools.
A mobile phone app developed especially for regional data, called My region, is also presented.
_________________________________________________________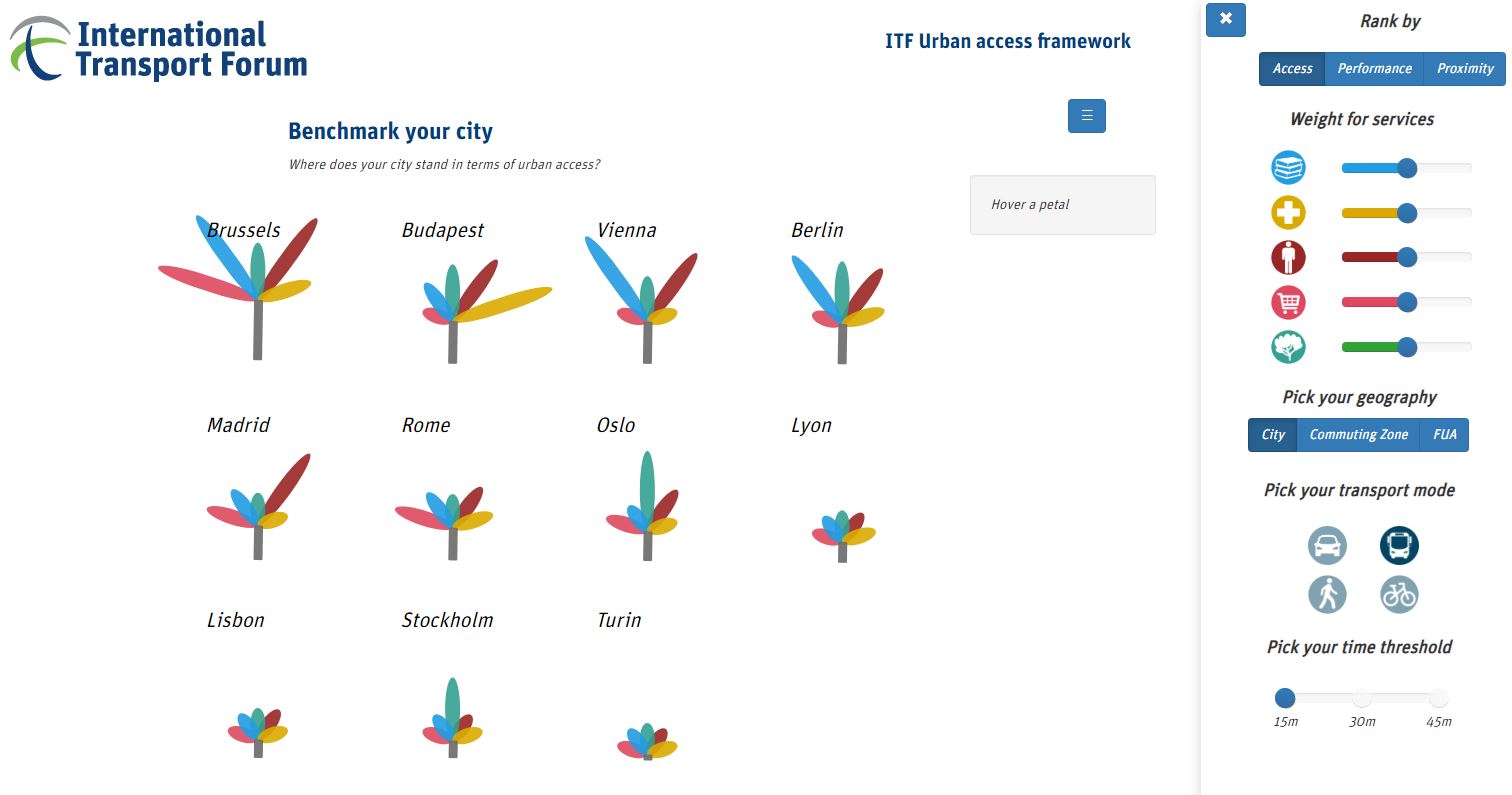 The ITF has developed a new Urban Access Framework together with the European Commission and the Organisation for Economic Co-operation and Development. The framework is used to measure accessibility in 121 cities in Europe.
This is a first version of the Visualisation Tool, which allows the user to explore and compare access in a select number of cities.
For more information, visit the ITF website.