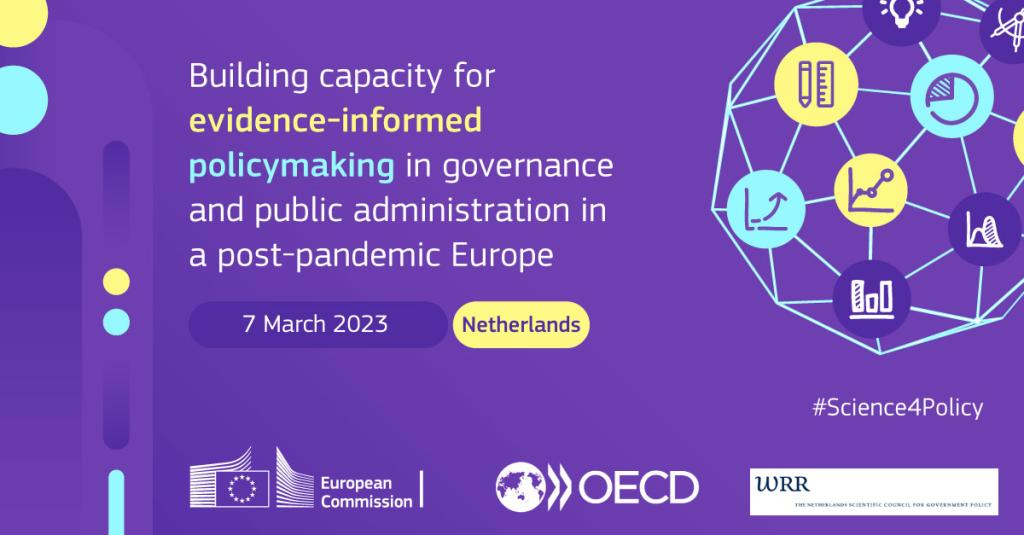 Dutch Kick-off Meeting
"Building capacity for evidence-informed policymaking in governance and public administration in a post-pandemic Europe"
Venue: WRR, Buitenhof 34, The Hague
Date/Time: 7 March 2023, 14:45-18:00 CET.
Format: in-person (only by invitation).
Context
European societies face complex problems such as Covid-19, addressing the policy challenges of climate change and of achieving climate neutrality of EU economies, information systems vulnerable to mis- and disinformation, among others. Governments, public administrations and experts in the scientific community must join forces to address these wicked problems and help public administrations to be better equipped to design better, evidence-informed policies that will deliver public value and sustainable results for their citizens.
This project, supported by the Technical Support Instrument (TSI) by DG REFORM, aims to overcome challenges in connecting supply and demand of evidence and scientific knowledge for effective policymaking. It will help public administrations through building greater capacity for effective engagement between scientists, evaluators and policymakers. Particularly, the country component of the project involves preparing a diagnostic report, a needs assessment and roadmaps for policy implementation at the national level. These should offer pathways for promoting new and innovative approaches for sharing knowledge and improving the management and coordination of governance processes for decision-making, policymaking, rule-making and budgeting to achieve greater effectiveness. 
For the Netherlands, this project is timely. First, the Dutch Research Agenda has an explicit aim to utilise knowledge to make a positive, structural contribution to society ensuring scientific and societal impact. Second, different actors, such as the Netherlands Scientific Council for Government Policy (WRR) or the informal Chief Science Officer Network, promote evidence-informed policymaking processes at the heart of government. Third, the Advisory Council for Science, Technology and Innovation (AWTI) published a report on "Advice: State of knowledge / Restoring the value of knowledge and expertise in policy and politics" in 2021, which reflected on the state of the Dutch science-for-policy ecosystem. Lastly, the Dutch government has launched the reform programme Werk aan Uitvoering (WAU) that aims to improve public services and policymakers' competences, including the uptake of scientific evidence in policymaking.
The project is implemented with the support of the European Commission's Joint Research Centre (JRC) and the Organisation for Economic Co-operation and Development (OECD).
Goals
Formal launch of the analysis to strengthen capacity for evidence-informed policymaking in the Netherlands in the post-pandemic Europe, as part of the multi-country project 22EL07.
Present the scope of the project and its implications at the national level.
Registration
Registration is only possible by invitation only.
Programme
---
The Hague, 7 March 2023, 14:45-18:00 CET
<<<<<The full programme is only made available to invited participants>>>>>
14:45  Arrival
15:00  Opening remarks
15:10  The international perspective on evidence-informed policymaking in governance and public administration
15:25  Taking stock of the Dutch "science-for-policy ecosystem": What challenges are there? Three short statements to kick-off the conversation
15:45  Conversation (Chatham House Rules), moderated by Frans Brom, director WRR
16:50  Preliminary take-away messages from the European Commission and the OECD
16:55  Closing remarks
17:00  Drinks
18:00  End