Search results (903)
Showing results 1 to 10
Related organisations
JRC - Joint Research Centre
PROJECTS AND ACTIVITIES | 23 July 2021
01/2019-12/2020 Key objective: To inform future programming by identifying innovation related subjects and fields requiring EU support and assistance in the Eastern Partnership and Southern neighbouring countries...
PUBLICATION | 23 July 2021
Fisheries and aquaculture biomass production within a sustainable and circular bioeconomy
PROJECTS AND ACTIVITIES | 23 July 2021
The demand for biomass is increasing worldwide. The EU's Green Deal priorities and the EU's green recovery may have strong impacts on biomass supply, demand and flows, which...
NEWS | 1 July 2021
The impact of floods to life and property is expected to increase as extreme weather events become more frequent annually. To address this threat as it evolves, the Global Flood Awareness...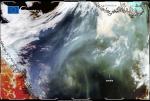 PUBLICATION | 15 July 2021
This behavioural experiment with farmers assessed the effect of two policy features of the new green architecture of the EU common agricultural policy on the adoption of environmentally friendly practices: (1)...
PUBLICATION | 9 July 2021
The Waste Framework Directive (2008/98/EC) establishes an annual reporting obligation for MS on food waste generation as of reference year 2020. The common methodology is defined in the Commission delegated...
PROJECTS AND ACTIVITIES | 9 July 2021
Advances in behavioral, decision and social sciences show that humans are not purely rational beings. As a result, this report brings new insights to political behaviour. It...
PUBLICATION | 9 July 2021
This report provides an overview of various market power indicators within the food industry in selected Member States (MS) in the EU. In addition, the report aims to examine whether...
NEWS | 8 July 2021
Help us identify the competences that enable effective, innovative evidence informed policy-making and science for policy!