Search results (54)
Showing results 1 to 10
Knowledge service topics
Strategic Actions and Coordination
Knowledge service
AI Watch
This report provides an overview of all AI Watch activities in 2019
AI Watch has developed a comprehensive methodology to estimate AI investments and applied it to the European economy.
In recent years, there are clear signs of an accelerating speed of AI diffusion and development across society. This calls for action to anticipate and identify policy needs to prepare...
AI Strategy In January 2020, the Council of Ministers has approved the National Artificial Intelligence strategy of Cyprus (Cyprus, 2019a). Cyprus will focus on the following priority...
This on-line report presents information on all EU Member States' national AI strategies in a structured and comprehensive way.
The AI Forum is an initiative of national AI associations that aims to set the agenda on how AI is approached in Europe, both in terms of policy and entrepreneurship.
This report provides an overview of AI Watch activities in 2019. AI Watch is the European Commission knowledge service to monitor the development, uptake and impact of Artificial Intelligence (AI)...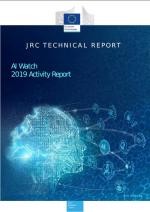 The AI Watch report on country strategies takes stock of the freshly drafted national strategies to help decision makers get an overview of what individual countries aim...
AI Strategy In April 2019, the Ministry of Economy and Innovation released the Lithuanian Artificial Intelligence Strategy: a vision for the future (Lithuania, 2019). The aim of the strategy (p. 4)...