Search results (15)
Showing results 1 to 10
KS specific taxonomy
Integration of migrants
Knowledge service topics
Legal migration and integration
Knowledge service
Migration and Demography
Eurostat's statistics on migrant integration. Policy background, data, methodology, legislation, publications and statistics illustrated.
The Migrant Integration Policy Index (MIPEX) is a useful tool that measures policies to integrate migrants in all EU Member States; Australia; Canada; Iceland; Japan; South...
The Fondazione ISMU – Initiatives and Studies on Multi-ethnicity – was created in 1991 at the initiative of the Fondazione Opere Sociali Cariplo (Cariplo's charity foundation). It was...
The aim of this report is to describe the performance of tertiary educated non-EU born migrants and mobile EU citizens in EU labour markets by looking at two different measures of performance...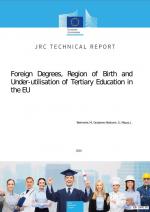 CEMIR combines expertise from different research institutions and countries, and hitherto often separated fields in economics. Through this, it contributes towards answering the questions concerning...
The Network of Europe's Leading Population Research Centres (Research, Expertise, Information)
The aim of the Data Challenge on Integration of Migrants in Cities (D4I) is to stimulate research on various aspects of the integration of migrants at local level. Through this initiative we make available...
The present report summarises the results of the Data Challenge on Integration of Migrants in Cities (D4I). D4I is an initiative launched at the end of 2017 by JRC to disseminate to external researchers a data...
How to use the D4I visualisation tool The related report: High resolution map of migrants in the EU