Search results (13)
Showing results 1 to 10
Geographic coverage
Syria
Facts, figures and stories about Syria, the conflicy and the refugees crisis
During 2015 the media started connecting climate change with the conflict in Syria and subsequent refugee movements across Europe. Many reports were in direct response to new...
Unlike in almost every year since 2013, the annual joint FAO/WFP Crop and Food Security Assessment Mission (CFSAM) in the Syrian Arab Republic was not conducted...
The Emergency Dashboard provides a visual overview of the most relevant operational information related to WFP's response in the emergency, including geographical, funding, and performance related information.
EU restrictive measures (sanctions) may consist of the freezing of funds or economic resources of certain persons, entities and bodies, as well as in some cases in restrictions to trade in certain...
Internal Displacement Monitoring Centre provides different types of analytical tools for different purposes, and adjust the temporal and spatial scale of our reporting to inform operational and policy...
IMPACT Initiatives is a leading Geneva-based think-and-do tank which aims to improve the impact of humanitarian, stabilisation and development action through data, partnerships and capacity building programmes...
The Structural Migration Profiles present fundamental information on the country's structural characteristics, with a yearly and historical perspective and with a map of critical areas linked with the international framework (SDGs). "Must-Know"...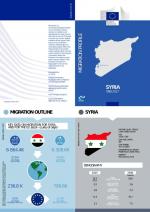 Globally, 108 million people in 2016 were reported to be facing Crisis level food insecurity or worse (IPC Phase 3 and above). This represents a 35...
In this study we analyzed the behavior of four poplar genotypes growing in the field under Mediterranean climatic conditions and different watering treatments ranging from optimal to deficient conditions...