Search results (37)
Showing results 1 to 10
Related organisations
JRC - Joint Research Centre
Geographic coverage
Not relevant
Access a whole set of resources related to LCA: guidance, network, projects, tools and data.
Science for Policy Handbook provides advice on how to bring science to the attention of policymakers. The handbook is dedicated to researchers and research organisations aiming to achieve policy impact. Today...
This report analyses the existing capacity and needs for bioeconomy modelling to integrate all three dimensions of sustainability (economic, social, environmental) and provides recommendations for developing new and improved...
This report aims to contribute to a better understanding of bio-based chemicals, plastics and pharmaceuticals in comparison to its fossil-based technologies, selecting representative value chains for each of the categories. This information...
This report is an attempt to develop a modelling framework integrating different sectoral stand-alone models used at the JRC for policy impact assessment in the fields of agriculture, forestry, land use...
Sustainable healthy diets are high on the research and policy agendas. One of the crucial resources to provide such diets are water resources. This paper provides a brief...
The consumption of materials and products is one of the drivers of biodiversity loss, which in turn affects ecosystem functioning and has socio-economic consequences worldwide. Life cycle assessment (LCA)...
Adjusting macroeconomic indicators to account for the depletion and degradation of natural capital has long been viewed as a way to show the linkages between nature and the economy and foster more...
Depletion is the concept underpinning one of the most widely applied approach to account for the impacts associated with mineral and metal resource use in Life Cycle Impact Assessment (LCIA)...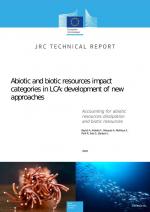 Agricultural production systems are sensitive to weather and climate anomalies and extremes as well as to other environmental and socio-economic adverse events. An adequate evaluation of the resilience of such systems...