Search results (3)
Showing results 1 to 3
Geographic coverage
Europe
This training presents rationales and methods of citizen engagement beyond consultation.
BiodiverCities is a project in the context of the EU Biodiversity Strategy 2030. It aims to enhance civil society participation in local and urban decision-making, leading to buiding a joint vision...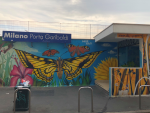 MAGIC deploys a set of novel, cutting-edge and system-oriented approaches that originates from system ecology, bio-economics and Science and Technology Studies.