Search results (7)
Showing results 1 to 7
Knowledge service
AI Watch
Geographic coverage
Europe
In order to investigate the extent to which the education offer of advanced digital skills in Europe matches labour market needs, this study estimates the supply and demand of university places...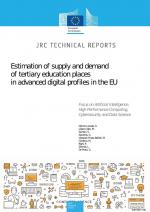 European DIGITAL SME Alliance is the largest network of ICT small and medium sized enterprises in Europe, representing about 20.000 digital SMEs across the EU. The alliance...
The Regulation, applicable as of 28 May 2019, aims at removing obstacles to the free movement of non-personal data across Member States and IT systems in Europe.The Regulation ensures:Free...
The Ethics Guidelines for Trustworthy Artificial Intelligence (AI) was prepared by the High-Level Expert Group on Artificial Intelligence (AI HLEG). This independent expert group was set...
In January 2018, the Commission in cooperation with the European Association for Artificial Intelligence (EurAI) organised a workshop to take stock of the current state of the field of artificial intelligence (AI) in Europe...
PREDICT includes statistics on ICT industries and their R&D in Europe since 2006. The project covers major world competitors including 40 advanced and emerging countries -...