Search results (8)
Showing results 1 to 8
Knowledge service
Global Food and Nutrition Security
Geographic coverage
Tunisia
This edited volume brings together effective measurement, methodologies, and determinants of food loss & waste (FLW), and more.
Nearly 15 million children between 5-14 years old are out of school in MENA, and 10 million are in school but at risk of dropping out due...
The cereal campaign in North Africa was characterised by negative rainfall supply and distribution in the west, ranging to positive conditions in the east. Morocco was clearly impacted by drought...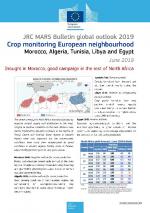 IMPACT Initiatives is a leading Geneva-based think-and-do tank which aims to improve the impact of humanitarian, stabilisation and development action through data, partnerships and capacity building programmes...
Agricultural Science and Technology Indicators (ASTI) provides trusted open-source data on agricultural research systems across the developing world. Led by the International Food Policy Research...
WAHARA will take a transdisciplinary approach to develop innovative, locally adapted water harvesting solutions with wider relevance for rainfed Africa. Water harvesting technologies play...
EAU4Food seeks to address the need for new approaches to increase food production in irrigated areas in Africa, while ensuring healthy and resilient environments. Potential pitfalls of introducing...
JRC and CCAFS jointly organized a workshop on June 13-14, 2012 in Ispra, Italy with the aim to advance the state-of-knowledge of data assimilation for crop yield forecasting in general, to address...