Search results (21)
Showing results 1 to 10
Knowledge service
Global Food and Nutrition Security
Geographic coverage
Central African Republic
En République Centrafricaine (RCA), les nombreuses crises militaro-politiques, qui se sont succédées de 2003 à 2014, ont fragilisé le tissu...
During the current period of September 2020 to April 2021, which corresponds to the post-harvest period in most of the agro-climatic zones of the country, 1.93 million people (41% of the population...
FEWS NET, the Famine Early Warning Systems Network, is a provider of early warning and analysis on acute food insecurity. Created in 1985 by the US Agency for International Development...
Between May and August 2020, corresponding to the lean season, it is estimated that despite planned food assistance, 29 sub-prefectures or 0.75 million people, representing 16%...
This Second Biennial Review Report builds on the efforts of the first round and tracks the performance of countries on each of the 47 indicators (four more than in the inaugural report) that shows the performance...
The WFP 2020 Global Hotspots Report highlights grave challenges in sub-Saharan Africa over the next six months with Zimbabwe, South Sudan, the Democratic Republic of Congo...
Internal Displacement Monitoring Centre provides different types of analytical tools for different purposes, and adjust the temporal and spatial scale of our reporting to inform operational and policy...
IMPACT Initiatives is a leading Geneva-based think-and-do tank which aims to improve the impact of humanitarian, stabilisation and development action through data, partnerships and capacity building programmes...
The September 2019 update of the Global Report on Food Crises provides estimates of the peak number of people in urgent need of assistance for food, nutrition and livelihood support in 2019...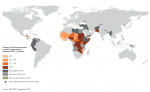 Agricultural Science and Technology Indicators (ASTI) provides trusted open-source data on agricultural research systems across the developing world. Led by the International Food Policy Research...