Search results (7)
Showing results 1 to 7
Knowledge service
Global Food and Nutrition Security
Geographic coverage
Algeria
Vers 2000, des travaux ont signalé une mutation silencieuse de l'élevage pastorale au Maghreb. Afin de saisir ces dynamiques, nous...
The COVID-19 pandemic and its related containment and mitigation measures are expected to disproportionately affect livelihoods in contexts with limited capacity, such as the Tindouf refugee camps. It...
Nearly 15 million children between 5-14 years old are out of school in MENA, and 10 million are in school but at risk of dropping out due...
The cereal campaign in North Africa was characterised by negative rainfall supply and distribution in the west, ranging to positive conditions in the east. Morocco was clearly impacted by drought...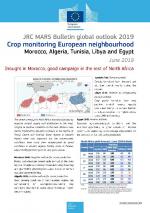 Agricultural Science and Technology Indicators (ASTI) provides trusted open-source data on agricultural research systems across the developing world. Led by the International Food Policy Research...
Domestic livestock play an important economic and cultural role for an enormous number of resource-poor farming communities in tropical and sub-tropical regions of the world. The prosperity of small family-run farms...
Contributing to restoring a safe and secure environment in the areas of the Chad Basin affected by Boko Haram (BH) through increased regional cooperation.