Search results (5)
Showing results 1 to 5
Geographic coverage
Spain
Digital Europa Thesaurus
emergency response
Scientists from the Copernicus Atmosphere Monitoring Service (CAMS*) have been closely monitoring the impact of the eruption on atmospheric composition.
Since the end of July, the forecasts of the Copernicus Emergency Management Service (CEMS) European Forest Fire Information System (EFFIS) had already predicted the likely development of fires...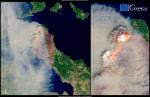 The Tropospheric Ozone Monitoring Instrument (TROPOMI) onboard the Copernicus Sentinel-5P satellite provides observations from which the atmospheric SO2 amount can be obtained at an unprecedented 3.5...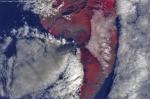 From capturing images of the rivers of lava, to measuring gas emissions and assessing damage, the fleet of Copernicus Sentinel satellites have been providing crucial data for local teams.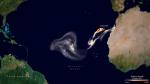 On 11 September 2021, the Copernicus Emergency Management Service (CEMS) Rapid Mapping was activated following the request of the Spanish General Directorate for Civil Protection and Emergencies...