Search results (4)
Showing results 1 to 4
Related organisations
JRC - Joint Research Centre
Digital Europa Thesaurus
food waste
A systems-thinking, foresight exercise on the sustainability of the future global food system.
Member States are now obliged to monitor the generation of food waste along the food supply chain and to take measures to limit it. To contribute to the harmonization of food...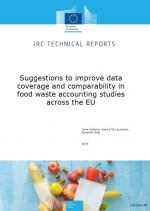 The economic, environmental, and social impacts of food waste are significant and its reduction is urgent. Target 12.3 of the Sustainable Development Goals advocates for a 50% reduction of the per capita...
Food waste is considered a sustainability challenge, and its reduction is advocated by the Sustainable Development Goal 12.3. The development of food waste prevention actions is, hence, essential...