Search results (17)
Showing results 1 to 10
Knowledge service
Migration and Demography
Digital Europa Thesaurus
big data
KCMD important work on Innovative data and modelling topic
To develop methodologies for the responsible and ethical use of innovative data sources to inform migration and demographic policies.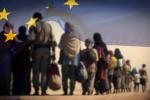 Repository of Global Pulse's projects. Find out more about collaborative research, prototypes and experiments analyzing digital data to support global development and humanitarian action.
Mobile positioning data can increase our understanding of movements in society and for businesses it helps map the locations of its customers. In an industry worth $11 billion...
One of the most pressing and fascinating challenges scientists face today, is understanding the complexity of our globally interconnected society. The big data arising from the digital breadcrumbs of human...
This project aims at exploring possibilities at-using social media data and big data in general for estimating (labour) mobility and migration in the EU. The report is published online. As results...
By connecting stakeholders and leveraging non-traditional data sources to improve the understanding of migration and human mobility globally, the Alliance seeks to foster more cooperation across actors operating...
The Knowledge Discovery and Data Mining Laboratory is a joint research initiative of ISTI Institute of CNR and the Department of Computer Science of the University of Pisa. The objective of the research unit is the development...
On the 29 August 2014 Secretary-General Ban Ki-moon named an Independent Expert Advisory Group on the Data Revolution for Sustainable Development. The 24-member group of experts from civil society...