Search results (11)
Showing results 1 to 10
Knowledge service
Bioeconomy
Geographic coverage
World
Digital Europa Thesaurus
value chain
GRAS is an online tool for building and verifying sustainable supply chains based on agricultural and forestry raw materials.
To keep our world liveable and thriving, we need to double GLOBAL circularity from 8.6% to 17%.
This edition of The State of Agricultural Commodity Markets focuses on how markets can bring us closer to achieving the 2030 Agenda for Sustainable Development. SOCO 2020 offers...
The COVID-19 pandemic is a health and human crisis threatening the food security and nutrition of millions of people around the world. Hundreds of millions of people were already suffering from hunger...
As the COVID-19 pandemic progresses, trade-offs have emerged between the need to contain the virus and to avoid disastrous economic and food security crises that hurt the world's poor and hungry...
Our food systems are at a critical juncture—the scale and the pace of change taking place in global, regional, national, and local food systems are unprecedented. Food...
This study identifies new wood-based products with considerable potential and attractive markets, including textiles, liquid biofuels, platform chemicals, plastics and packaging. We apply a mixed...
This paper introduces a special issue of Aquaculture that brings together the largest collection of research on aquaculture value chains compiled to date, comprising 19 individual papers and this introductory...
This paper is a paper in a series of work on Global Value Chains (GVCs), developed under the auspices of the Joint Research Centre (JRC) of the European Commission. It builds upon...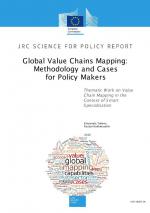 Diverse national resource bases, infrastructure, regulatory environments and markets call for the development of diverse national bioeconomies in the quest towards cleaner production and a more sustainable future...