Search results (3)
Showing results 1 to 3
Related organisations
Integrated Food Security Phase Classification
Geographic coverage
Yemen
Digital Europa Thesaurus
food security
High levels of food insecurity persist, amidst deterioration of the economy, conflict and impact of the COVID-19 pandemic.
The Early Warning Early Action (EWEA) Report on FoodSecurity and Agriculture is produced by the Food and Agriculture Organization of the United Nations (FAO). It provides a quarterly forward-looking analysis...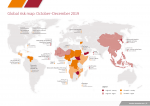 The Global Report on Food Crises is the reference document on the latest estimates of acute hunger in the world. It is a public good prepared collectively by 15 leading global and regional...