Search results (14)
Showing results 1 to 10
Knowledge service
Global Food and Nutrition Security
Geographic coverage
Gambia
Digital Europa Thesaurus
food security
Le poisson représente environ 70 % des besoins en protéines animales au Sénégal, et plus de la moitié de ces...
This map presents the results for the whole consumption year by indicating the area with level of deficit. The tool provides a seasonal analysis of deficits, showing when deficits are likely...
For the second consecutive year, the region must prepare for a major food and nutrition crisis in 2021. The March update indicates that 27.1 million people might need emergency...
SDG2 links food security, nutrition and a sustainable but climate resilient agriculture. This multi-dimensional goal encompasses several specific targets and indicators, aimed at ending hunger, improving...
Fortified Food The proposed action aims at contributing to the eradication of malnutrition in rural and urban populations of sub-Saharan Africa (SSA) by improving the quality, availability and legal framework of fortified...
The 36th annual meeting was held virtually in light of the Covid-19 pandemic. It took stock of the 2020-21 agro-pastoral campaign, the food and nutrition situation and the responses to the 2020...
Sound the alarm for political and financial action to address an unprecedented food and nutrition situation in the Sahel and West Africa that has been strongly exacerbated by the combined effects of security...
ECOAGRIS est un acronyme qui signifie « Système Régional Intégré d'Information Agricole de la CEDEAO ». Il a été conçu pour...
The Early Warning Early Action (EWEA) Report on FoodSecurity and Agriculture is produced by the Food and Agriculture Organization of the United Nations (FAO). It provides a quarterly forward-looking analysis...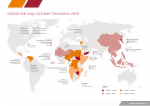 The September 2019 update of the Global Report on Food Crises provides estimates of the peak number of people in urgent need of assistance for food, nutrition and livelihood support in 2019...