Search results (9)
Showing results 1 to 9
Knowledge service
Bioeconomy
Geographic coverage
United States
Digital Europa Thesaurus
public policy
The Biofuture Platform is a 20-country effort to promote an advanced low carbon bioeconomy that is sustainable, innovative and scalable.
The 2018-2019 update of this report describes the policies being used and levels of biofuels market penetration being achieved within IEA Bioenergy Task 39 member countries...
The objective of this article is to identify the prevalence of state-level share table policies, assess the quality of available policies, and determine common policy characteristics.
The US Biomass Research and Development (BR&D) Board coordinates research and development activities concerning biobased fuels, products, and power across federal agencies, and aims to maximize...
This study was conducted in preparation for the Global Bioeconomy Summit 2018. It presents an update of two previous reports on national bioeconomy policy strategies assembled by the Secretariat...
The Workshop 'A global view of bio-based industries: benchmarking and monitoring their economic importance and future developments', organised in the framework of the EU-Brazil Sector Dialogues, brought together...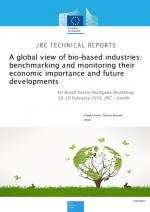 The study is directed at policy makers, industry, research communities, and representatives of civil society. Its primary aim is to contribute to the establishment of an international discussion and coordination platform for the future...