Search results (9)
Showing results 1 to 9
Digital Europa Thesaurus
governance
Internet
Non-state actors, global conscientiousness, social media and the internationalisation of decision-making are forming new, multi-layered governing systems.
Globalisation of all sectors — economic, security, information, technological development, etc.— together with increased mobility and solidarity of the population worldwide are accelerating the spread and implementation...
Power distribution in multilevel government , and the combination of local, regional, national and supranational levels, could be put on the political agenda and its legitimacy enforced or increased...
Freedom in the World 2019 The Open Data Barometer Source: Freedom House, Freedom in the World 2019 Reporters Without Borders, The World Press Freedom Index
There are several types of hybrid tactics used both, by state and non-state actors. The power and diversity of hybrid warfare will continue to increase, challenging security...
Source: Statista - The statistic portal, (2018), Number of social network users worldwide from 2010 to 2021 (in billions) Find more statistics at Statista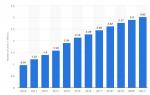 When social media is becoming one of the most powerful tools for shaping peoples' choices, being an "influencer" is at the reach of anyone. The number of social media users worldwide...
Governance Increasing global connectedness will continue to foster the interactions among non-state actors beyond states' capacity to control them, increasingly challenging traditional governance...
The influences of states' governance and of multinational corporations are growing beyond their physical borders and sector of activities. The complexity and global nature of accelerating change is increasing the necessity...