Search results (47)
Showing results 1 to 10
Related organisations
JRC - Joint Research Centre
Digital Europa Thesaurus
sustainable development
Overview of Food-Based Dietary Guidelines and their key features, validated by Member States.
The objective of thr JRC knowSDGs platform is to provide interactive and easy-to-use data visualization of Sustainable Development Goal indicators.
The EU Bioeconomy Monitoring system is pursuant to the Action 3.2.2 of the EU Bioeconomy Strategy (COM/2018/673). It addresses the need for a comprehensive monitoring system by establishing a mechanism to measure...
The EU Recovery Plan represents a unique window of opportunity to restart the socioeconomic system after the Covid-19 crisis, fostering a shift towards sustainable development. The UN Agenda...
The green transition requires investments in updated skill sets to master green technologies and reduce the environmental footprint of activities. This report aims to support the implementation of the European Green...
Evaluating the potential impacts of each policy on all sustainability dimensions (economic, social and environmental), as captured in the UN SDGs and their targets, requires system thinking and shifting...
The European Commission set up a Technical Expert Group on Sustainable Finance (TEG) to support the implementation of the Commission's Action Plan on Financing Sustainable Growth. Among other tasks...
Sustainable healthy diets are high on the research and policy agendas. One of the crucial resources to provide such diets are water resources. This paper provides a brief...
The European Bioeconomy Strategy, updated in 2018, promotes a sustainable and circular EU Bioeconomy that contributes to the climate-neutrality of the EU, the implementation of a circular economy, and puts emphasis on sustainable food...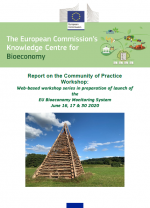 This brief on fisheries and aquaculture biomass production is one out of a series of briefs from the EC's Knowledge Centre for Bioeconomy which intend to provide independent evidence for EU policy...