Search results (4)
Showing results 1 to 4
Geographic coverage
Sweden
Digital Europa Thesaurus
climate change
The melting of the Kebnekaise glacier is clear evidence of the progressing climate change, according to scientists.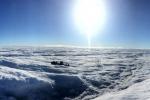 This report aims to present current data over the carbon flows of Nordic-Baltic forests and forestry. Such data are of particular interest with respect to the current efforts to reduce...
The Swedish forest industry has a positive effect on the global climate equivalent to 93 million tonnes of carbon dioxide per year, when both forest and forest products...
A variety of climate mitigation strategies is available to mitigate climate impacts of buildings. Several studies evaluating the effectiveness of these strategies have been performed at the building stock...