Search results (35)
Showing results 1 to 10
Geographic coverage
Global
Digital Europa Thesaurus
biodiversity
During the last decades, soil organic carbon (SOC) attracted the attention of a much wider array of specialists beyond agriculture and soil science, as it has proven...
This paper presents novel applications of spatial and temporal remotely sensed indices for biodiversity conservation and the identification of hotspots of high and low conservation concern.
This Open Access volume aims to methodologically improve our understanding of biodiversity by linking disciplines that incorporate remote sensing, and uniting data and perspectives in the fields of biology, landscape...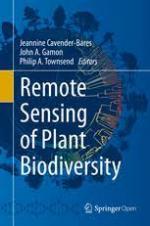 Agriculture is the largest single source of environmental degradation, responsible for over 30% of global greenhouse gas (GHG) emissions, 70% of freshwater use and 80% of land conversion...
The drafting of this White/Wiphala Paper was coordinated by the Global-Hub on Indigenous Peoples' Food Systems and edited by a Technical Editorial Committee that summarised the main points received. The White/Wiphala Paper...
13 key principles for food systems transformation Preferentially use local renewable resources and close as far as possible resource cycles of nutrients and biomass. Input reduction...
The Economic Case for Nature is part of a series of papers by the World Bank that lays out the economic rationale for investing in nature and recognizes how economies rely on nature for services...
This publication provides an overview of the common and unique sustainability elements of Indigenous Peoples' food systems, in terms of natural resource management, access to the market, diet diversity, indigenous...
Context Indigenous people have an approximate population of 476 million across 90 countries with about 5,000 distinct cultures, accounting for most of the world's cultural diversity...