Search results (83)
Showing results 1 to 10
Knowledge service
Bioeconomy
Geographic coverage
European Union
Digital Europa Thesaurus
biomass
Fisheries and aquaculture biomass production within a sustainable and circular bioeconomy
This study looks at the big picture of biomass use across the EU economy and suggests ways to realise the greatest possible value from biomass resources in a transition to net-zero greenhouse...
The European Commission has put forward a long-term vision for the EU's rural areas, identifying the challenges and concerns that they are facing, as well as highlighting some of the most...
Data behind the graphs from the report JRC118592 "Towards net-zero emissions in the EU Data Insights from scenarios in line with the 2030 and 2050 ambitions of the European Green Deal."
BIOMASS data set of ENSPRESO - an open data, EU-28 wide, transparent and coherent database of wind, solar and biomass energy potential
Vegetation cover changes associated with land use and land cover change (LULCC) can perturb the local surface energy balance, which in turn can affect...
Forests are often perceived as being at the nexus of the solutions to the two main environmental crises that are plaguing our planet today: Climate change and biodiversity loss...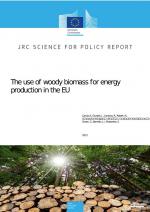 The EU bio-based industry is quickly evolving but clear data on the development of this emerging sector are still missing. A new JRC report illustrates the work of the JRC in building...
The JRC fisheries and aquaculture data dissemination website provides access to economic, biological and transversal fisheries and aquaculture data submitted by European Union Member States to the European...
This brief is one out of a series of Knowledge Centre for Bioeconomy's briefs which intend to provide independent evidence for EU policy in this field. 1. Assessing the role of the forest-based...