Search results (7)
Showing results 1 to 7
Related organisations
JRC - Joint Research Centre
Geographic coverage
Europe
Digital Europa Thesaurus
land use
ForestEurope: pan-European forest fragmentation derived from CORINE 1990, 2000, 2006, 2012, 2018
The LUISA Base Map 2018 is a high-resolution land use/land cover map produced in 2020-2021 by the Joint Research Centre of the European Commission and corresponds to a modified and improved version...
This document describes the design process, definitions, and algorithmic implementation for the pan-European Assessment of Forest Fragmentation. This study is a preceding presentation of the indicator 4.7 in the State of Europe's Forests 2020...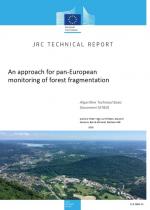 Research is at the basis of the JRC's support to a range of forest-related policies, including the EU Bioeconomy, Biodiversity, and Forest Strategies and the Paris Climate Agreement. This website describes research activities...
In order to contribute to the EU's ambitions to reduce its greenhouse gas emissions by 2030, different technological and management options are being analysed. Within the agricultural sector...
ANIMALCHANGE will provide scientific guidance on the integration of adaptation and mitigation objectives and design sustainable development pathways for livestock production in Europe, in Northern and Sub-Saharan Africa and Latin...
In European forestry, one essential, although not yet available information, was the distribution of the forest tree species in the European wide territory. This first Atlas of Forest...