Search results (7)
Showing results 1 to 7
Knowledge service
Migration and Demography
Digital Europa Thesaurus
population statistics
a new knowledge management tool to better understand demographic change
An interactive tool and reference book making data on migration in 198 countries accessible for policymakers, researchers and the general public.
The Covid-19 pandemic has reminded us that our welfare, employment and health systems rest on a delicate demographic balance, highlighting the need for a better understanding of demographic dynamics...
EC Daily News 25/02/2021 Joint Research Centre analysis reveals divergent population growth, decline and ageing across Europe Today, the European Commission's Joint...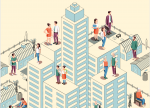 The list of Eurostat migration-related tables provides details on the Eurostat data which the Knowledge Centre for Migration & Development focuses on.