Search results (7)
Showing results 1 to 7
Knowledge service
Foresight
Digital Europa Thesaurus
population statistics
social statistics
Source: Eurostat, Population structure and ageing, 2019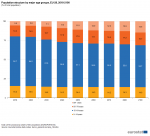 source: UNFPA World Population Dashboard
Source: Shifting tides: Global economic scenarios for 2015–25, McKinsey Global Growth Model, April 2015
The European middle class has been eroding in the past decade, due to the economic turmoil as well changing work conditions and further increases of unemployment, especially among...
The growing purchasing power of the middle classes in the newly industrialised countries creates opportunities for the consumer goods industry, health services, infrastructure and education.
Worldwide The global middle class is expected to grow and reach 5.5 billion by 2030. Some 87% of the additional middle class population will be Asians. Developing...
European Union progress towards the SDGs Source: Eurostat Sustainable development in the European Union; Overview of progress towards the SDGs in an EU context