Search results (24)
Showing results 1 to 10
Digital Europa Thesaurus
population statistics
a new knowledge management tool to better understand demographic change
An interactive tool and reference book making data on migration in 198 countries accessible for policymakers, researchers and the general public.
The Covid-19 pandemic has reminded us that our welfare, employment and health systems rest on a delicate demographic balance, highlighting the need for a better understanding of demographic dynamics...
From 1985 to 2016, the prevalence of underweight decreased, and that of obesity and severe obesity increased, in most regions, with significant variation in the magnitude of these changes across regions. We investigated...
EC Daily News 25/02/2021 Joint Research Centre analysis reveals divergent population growth, decline and ageing across Europe Today, the European Commission's Joint...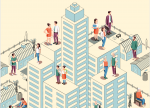 Developments The world population passed 7 billion in 2011, and reached about 7.75 billion by the end of 2019. The 20th century started with a global human population of 1.6...
A study of immigration detention practices and the use of alternatives to immigration detention of children, Athanassia P. Sykiotou, Council of Europe, 2017Does Development Reduce Migration?, Michael A...
Scenario Exploration System that pictures future scenarios to face food safety and nutrition challenges.