Search results (41)
Showing results 1 to 10
Related organisations
JRC - Joint Research Centre
Digital Europa Thesaurus
statistics
View 2019 data on employment and value added for the European bioeconomy in an infographic.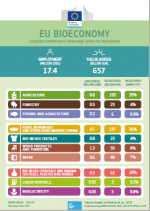 A new release of Sankey diagrams of woody biomass flows in the European Union as a whole are available for the years 2009 to 2017 on the European Commission Knowledge Centre for Bioeconomy...
Browse the Sankey diagrams and visualise the woody biomass flows within the forest-based sector in the European Union (2009-2017 data).
Discover uses and sources of woody biomass at EU and Member State's scale (2009-2017 data).
This document provides guidance to policymakers on how to monitor the sustainability of the bioeconomy in their country or within a macro-region, such as the European Union (EU). In any geographical context, the bioeconomy...
This report presents the current situation and an outlook for the major Ukrainian agricultural commodity markets until 2030 along with the update of the Ukraine country model in AGMEMOD. AGMEMOD is a system...
Forest biomass density map at 100 m resolution for the year 2010, matching the harmonized reference statistics at national and sub-national scale in terms of forest area, biomass...
Accurately characterizing land surface changes with Earth Observation requires geo-localized ground truth. In the European Union (EU), a tri-annual surveyed sample of land cover and land...
Wood resource balance (WRB) sheets are most useful in providing an overview of sources and uses of woody biomass, highlighting data gaps and inconsistencies. This technical report...
This Heat and Power from Biomass Technology Development 2020 presents an assessment of the state of the art, development trends, targets and needs, technological barriers, as well as techno-economic projections until...