Search results (9)
Showing results 1 to 9
Digital Europa Thesaurus
job security
Rapid implementation of automation and robotics and the emergence of AI and IoT are radically changing the work environment. Smart homes, virtual secretaries, AI doctors, care robots...
Work is increasingly more cognitively complex, more collaborative, more dependent on technological competence, more mobile and less dependent on geographyIn the 'Gig Economy', jobs are...
By 2030, hyper-connected, tech savvy millennials will make up 75% of the workforce. An estimated 90% of today's jobs require some IT skills. In the EU, an estimated 61...
The education system has to be adapted to a growing access to an increasingly diversified and fast changing amount of knowledge. The aim should be to give young people the capacity...
World online gig work sources (interactive map)Source: Online Labour Index
World Employment and Social Outlook, Employment by StatusSource: ILO, World Employment and Social Outlook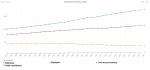 The estimates of the share of jobs that could be automated in the future vary widely across studies; e.g. globally, between loss of some 2 billion, to creation of 375...