Search results (3)
Showing results 1 to 3
Digital Europa Thesaurus
policymaking
public health
ECICC is a person-centred initiative to improve colorectal cancer prevention and care in Europe.
The European Commission initiatives on breast and colorectal cancer aim to improve quality of care and reduce inequalities in Europe.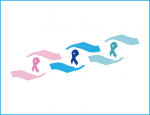 At the GLF Biodiversity Digital Conference, the GLF community came together and encouraged the world to harness the power of landscapes for transformative change towards radical inclusivity and sustainability. Recognizing...