Search results (84)
Showing results 1 to 10
Digital Europa Thesaurus
agricultural waste
Trial of diverting textiles from landfill to farm has potential to recycle 'huge amount' of material.
This study explores the situation of waste management options currently employed and investigates how MSW can contribute to increase the renewable energy supply in Europe. For this purpose, a GIS-based...
This study provides a spatial explicit assessment of sustainable crop residues removal based on GIS approach and data from multiple sources, considering local soil, climate, and farming...
Agriculture and forestry produce waste such as wood, bark and straw. An EU-funded project has investigated the potential for producing new materials for the construction industry.
This final narrative report presents all the activities carried out and the deliverables obtained during the WABEF period from 1 Feb. 2014 to 31 Jul. 2017. Some...
The BioMonitor project released two policy briefs that focused on future-oriented scenarios developed for the analysis with the BioMonitor Model Toolbox. These scenarios present possible future development...
Bar chart and treemap with the agricultural biomass production in the EU by attribute (economic/residue production), crop group (cereals, vegetables, etc.), and crop by country
Explore how agricultural biomass production (primary production and residues) in the EU evolved since 1998.
Discover research projects on agricultural biomass since 1996 and the organisations involved.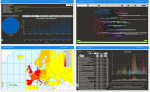 Data on waste generation and treatment by country, waste category, hazardousness and waste operations (generation/treatment/deposit) expressed in tonnes and percentage. Categories of biological wastes included in the dataset would...