Search results (9)
Showing results 1 to 9
Digital Europa Thesaurus
deforestation
Research and data to make progress against the world's largest problems by Our Wold in Data.
Around the world, forests and other natural ecosystems like grasslands, wetlands and savannahs continue to be destroyed at an alarming rate. This contributes to climate change and the loss of biodiversity and the vital...
Accurate characterization of tropical moist forest changes is needed to support conservation policies and to quantify their contribution to global carbon fluxes more effectively. We document...
Deforestation, a significant threat to biodiversity, is accelerated by global demand for commodities. Although prior literature has linked deforestation to global supply chains, here we provide...
Tropical forests are an unbelievably precious source of biodiversity, and act to regulate the climate on a global level. Almost a billion people depend on them directly for a living. Nevertheless...
CONTEXT: Livestock farming is a major factor in the balance or disruption of bio-geochemical cycles, climate and biodiversity. The Brazilian Amazon is emblematic of these tensions between livestock production and environment...
Due to its controversies, oil palm cultivation has been targeted by regulatory innovations. Among these, transnational efforts—such as the Roundtable on Sustainable Palm Oil (RSPO)...
The need for accurate information on the state and evolution of tropical forest types at regional and continental scales is widely recognized, particularly to analyze the forest diversity and dynamics, to assess degradation...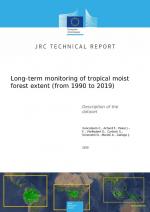 The European Union has adopted additional funding worth €275 million from the Emergency Trust Fund for Africa for programmes in the Horn of Africa and in the Sahel and Lake Chad region...