Search results (6)
Showing results 1 to 6
Related organisations
JRC - Joint Research Centre
Knowledge service
Bioeconomy
Digital Europa Thesaurus
economic growth
View 2017 data on employment and value added for the European bioeconomy in an infographic.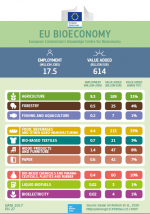 This brief on jobs and growth of the bioeconomy 2009-2015 is one out of a series of Bioeconomy Knowledge Centre briefs which intend to provide independent evidence for EU policy in this field...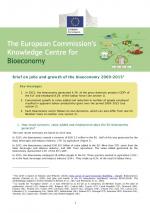 Commission Decision of 25 February 2016 setting up a Scientific, Technical and Economic Committee for Fisheries, C(2016) 1084, OJ C 74, 26.2.2016, p. 4–10. The Commission...
- The bioeconomy generates 4.1% of the EU GDP and employs 8.2% of the EU labour force. - Concomitant growth in value added and reduction in number of persons employed...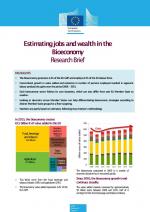 The infographic provides the update of the 2015 figures on employment, turnover and value added of the European bioeconomy.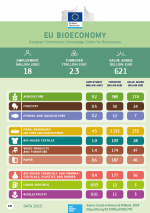 The monitoring of the European bioeconomy is hampered by a lack of statistics on emergent and partially bio-based sectors. In this study, we complete the picture of the bioeconomy in the European Union (EU) by first estimating...