Search results (22)
Showing results 1 to 10
Digital Europa Thesaurus
artificial intelligence
This report illustrates and follows the steps to build an AI Watch Index from the collection of outputs of AI Watch analyses. It identifies a set of indicators suitable to provide a comprehensive...
Have your say until the 15th of May 2021 on the use of AI in the public sector!
In the EU, the right to timely access the 'affordable, preventive and curative health care of good quality' and the right to 'affordable long-term services of good quality' are enshrined in the European...
A policy brief on how digital technologies can modernise the public sector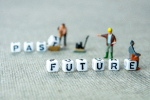 New generations of cars are making use of advances in the field of Artificial Intelligence (AI) to provide semi-autonomous and autonomous driving capabilities, achieving a technological breakthrough that will...
In support of the Food and Agriculture Organization of the United Nations (FAO) Member States and country offices, the FAO Subregional Office for Eastern Africa (SFE) in 2018 published a five–year...
This policy brief addresses the question of what it takes for Europe to become a global leader in AI in health. First, it analyses Europe's position in the global AI...