Search results (4)
Showing results 1 to 4
Digital Europa Thesaurus
cross-frontier data flow
The point of reference for curated EU-wide risk data.
Number of Data Professionals by Member State (units) (interactive map)Source: The European Data Market Monitoring Tool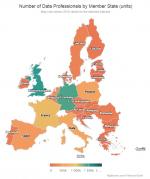 The Regulation, applicable as of 28 May 2019, aims at removing obstacles to the free movement of non-personal data across Member States and IT systems in Europe.The Regulation ensures:Free...
In 2016 alone, about 2.9 billion international trips occurred worldwide - around 600 million more than five years earlier. With around 1.2 billion...