Search results (11)
Showing results 1 to 10
Digital Europa Thesaurus
medical research
public health
Source: WHO, Global Health Observatory (GHO) data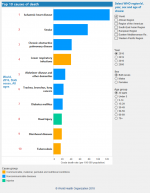 A foresight research about priorities for foods and diets for health, taking into account future challenges and possible long-term developments. It supported the implementation of Horizon 2020, the European...
90% of all health R&D expenditure is targeted at problems that affect only 10% of the world's population.| Related Megatrends: Inequalities; TechnologyAbout 20% of health expenditure makes...
There is increasing attention to preventive medicine, genetic manipulation to eliminate risks (CRISPR), lifestyle changes, etc. The "new patient" concept implies that patients are not...
Access to quality health care should be a basic human right.
Goal 3 "Ensure healthy lives and promote well-being for all at all ages" of the SDGs includes two targets directly related to noncommunicable diseases.
World Bank, Tracking universal health coverage: 2017 Global Monitoring Report, (2017)IPES-Food, Towards a Common Food Policy for the European Union; the policy reform and realignment...
Source: OECD Green Growth Indicators 2017 (interactive map)
Source: World Bank indicators, with Millennium Project compilation and forecast; 2015-16 State of the Future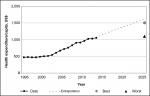 Source: WHO, Global Health Observatory (GHO) data (interactive map)