Search results (18)
Showing results 1 to 10
Digital Europa Thesaurus
medical research
Source: WHO, Global Health Observatory (GHO) data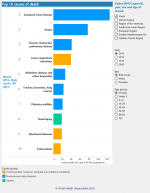 It is widely feared that the COVID-19 pandemic will lead to a significant worsening of the food security situation in low and middle-income countries. One reason for this is the disruption of food marketing...
What are behavioural insightsBehavioural insights concern how people perceive things, how they decide, and how they behave.Behavioural insights are generated by empirical...
A foresight research about priorities for foods and diets for health, taking into account future challenges and possible long-term developments. It supported the implementation of Horizon 2020, the European...
A TIM space dedicated to the covid19 crisis is made available here. Users can explore various visualisations and better understand the state of research on coronaviruses through patents...
Worldwide Many developing countries must now deal with a "dual burden" of disease: they must continue to prevent and control infectious diseases, while also addressing...
90% of all health R&D expenditure is targeted at problems that affect only 10% of the world's population.| Related Megatrends: Inequalities; TechnologyAbout 20% of health expenditure makes...
There is increasing attention to preventive medicine, genetic manipulation to eliminate risks (CRISPR), lifestyle changes, etc. The "new patient" concept implies that patients are not...
GAINS - Greenhouse Gas and Air Pollution Interactions and Synergies. TM5-FASST - Fast Scenario Screening Tool for impact analysis of air pollutant emissions on air...