Search results (66)
Showing results 1 to 10
Geographic coverage
European Union
Digital Europa Thesaurus
research
Country-based indicators for all EU member states
This workshop supported the implementation of action 2.4. "Promote education, training and skills across the bioeconomy" of the updated EU Bioeconomy Strategy and Action Plan. Key initiatives, in particular...
This paper gives an overview of development of the EU-bioeconomy, 2014-2020. The Vision of the new Circular Bio-based Economy, CBE is presented: Unlocking the full potential of all types of sustainably sourced...
BIC has commissioned guidance produced by the Institute of European Environmental Policy (IEEP) enabling the bio-based industries to better measure how bio-based projects contribute to the UN...
This report analyses EU-funded collective action projects in the energy field. The objective is to provide an overview of the current state of play of relevant research and innovation activities in the EU and to identify...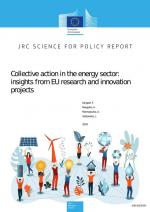 WP2 is positioned in the first phase of the FIT4FOOD2030 project aiming to identify and mobilise relevant actors, unite visions, and increase understanding of barriers and opportunities for transforming the current system...
The European Technology Platforms (ETPs) 'Plants for the Future', 'Food for Life' and TP 'Organics' have jointly developed R&I policy recommendations to address several of the most pressing...
ATF-PLANT ETP Policy Brief The Farm-to-Fork strategy opens the way towards a rejuvenated agriculture that stays within planetary boundaries. The goal is to arrive at a climate change-mitigating, circular...
The United Nations Sustainable Development Goals (SDGs) aim to tackle global challenges related to social, economic and environmental aspects. In November 2016, the European Commission published...
The EU food system has achieved high levels of food security, food safety and a wide consumer choice, but is currently not sustainable with respect to the environmental, economic...