Search results (52)
Showing results 1 to 10
Geographic coverage
World
Digital Europa Thesaurus
research
This report sets out science-based principles on natural resource management informed by the research of UNEP's International Resource Panel (IRP).
This report is a first step in addressing knowledge gaps in the potential economic benefits of Nature-Based Solutions (NBS) and the challenges facing Nature Based Enterprises (NBE). Based on extensive...
The European Commission Directorate-General for Research & Innovation has just released a new independent expert report on the role of nature-based solutions in the transition towards a nature positive...
This biennial report continues the joint JRC-OECD analysis of the IP portfolios of the world's top 2 000 R&D investors. The report shows that global R&D and patenting activities...
The Copernicus Marine Service is the European Union service for a sustainable use of the Ocean, and is one of the six pillar services of the Copernicus programme. The Copernicus Marine Service provides the European...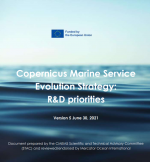 The FACCE-JPI (Joint Programming Initiative on Agriculture, Food Security and Climate Change) project wheel is an interactive presentation of the research projects undertaken under the FACCE-JPI umbrella since 2010.
Continuous, inspiring and interconnected step-by-step changes in thought and understanding, knowhow, actions and behaviour have often been instrumental in transitions from one particular age to the next in human...
The IPCC is now in its sixth assessment cycle, in which the IPCC is producing the Sixth Assessment Report (AR6) with contributions by its three Working Groups and a Synthesis Report...
To keep our world liveable and thriving, we need to double GLOBAL circularity from 8.6% to 17%.
Data on patent applications in the biotechnology sector to the EPO by priority year, expressed in number of total applications, per million inhabitants and per million of active population. Patents reflect a country's...