Search results (42)
Showing results 1 to 10
Geographic coverage
Africa
Digital Europa Thesaurus
research
On the 13th October 2022, The European Commission Joint Research Centre organised an online side event at the FAO Science and Innovation Forum. The objective of the meeting was to discuss...
The 2022 Africa Agriculture Status Report (AASR22) is aptly titled: Accelerating African Food Systems Transformation to project the urgent need for the agricultural sector to achieve inclusive...
This background paper examines the linkages and interactions between women's empowerment, food systems, and nutrition. It examines: How women's empowerment and gender equality relate to...
Over the last 2 decades, many African countries have undergone dietary and nutrition transitions fueled by globalization, rapid urbanization, and development. These changes have...
The OceanChallenge4Africa marine data hackathon brought together more than 200 participants to build a thriving blue economy and promote a sustainable ocean.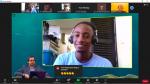 Climate Change and Food Systems: Transforming Food Systems for Adaptation, Mitigation, and Resilience Many promising innovations and policy approaches show potential to address climate change...
While agroforestry is a well-established approach for agroecological intensification, rice is less often integrated with trees than other annual staple crops. The benefits and risks from rice agroforestry practices...
Highlights Policies need to be based on the understanding that access to food is a human right. Food security should become a key topic in the humanitarian–development–peace nexus...
This AU-EU Innovation Agenda proposes specific objectives with short-, medium- to long-term actions for all four priority areas of the AU-EU High-Level Policy Dialogue on Science, Technology...