Search results (14)
Showing results 1 to 10
Geographic coverage
European Union
Digital Europa Thesaurus
crop production
Crop diversity across countries and scales in European Union
These datasets are an output of KIP INCA and refer to map datasets for 7 ecosystem services. The maps depict the spatial information that is provided by the ecosystem service accounts...
EU agriculture is facing increasing expectations and pressure from society and policymakers to support environmental protection and climate change mitigation. Catch and cover crops (CCC) are an underused...
This brief on agricultural biomass is one out of a series of briefs prepared by the Knowledge Centre for Bioeconomy which intend to provide independent evidence for EU policy in this field. The following...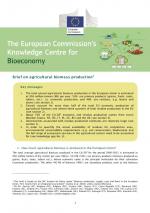 ATF-PLANT ETP Policy Brief The Farm-to-Fork strategy opens the way towards a rejuvenated agriculture that stays within planetary boundaries. The goal is to arrive at a climate change-mitigating, circular...
There is a need to conceive and support bioeconomy strategies within the context of sustainable development in the European Union. A holistic vision regarding the deployment of research on promising biomass crops...
Cover crops (CC) promote the accumulation of soil organic carbon (SOC) which provides multiple benefits to agroecosystems. However, the additional nitrogen (N) inputs into the soil...
This dataset is an output of KIP INCA. The dataset presents the contribution of ecosystems to crop provision by multiplying the yield in tonne/ha with the ecosystem contribution ratio. This ratio is a number between 0...
Facts and figures on biomass, turnover and employment
The C-stocks change indicator estimates the change in the stocks of carbon in organic compounds in mineral soils (Mt C year-1) and CO2 emissions or removals (Mt CO2 equivalent...