Search results (17)
Showing results 1 to 10
Knowledge service
Global Food and Nutrition Security
Geographic coverage
World
Digital Europa Thesaurus
crop production
Global and regional scale agricultural monitoring systems aim to provide up-to-date information regarding food production to different actors and decision makers in support of global and national...
DEVCO is supporting the proof-of-concept phase of a new food security and food safety programme: PlantwisePlus. Led by the Centre for Agriculture and Bioscience International (CABI) and involving numerous partners...
This study assesses the impact of several diversification practices in cropping systems on above- and belowground biodiversity and ecosystem services by. Overall, diversification enhances biodiversity, pollination, pest...
This article analyses the results of 5,662 experiments covering more than 120 crops and 85 countries. The crop diversification strategies analysed in the literature are diverse and are regrouped...
This study is part of a larger effort by The Economics of Ecosystems and Biodiversity for Agriculture and Food (TEEBAgFood), from the United Nations Environmental Programme (UNEP), which has been "designed to provide...
This publication offers a synthesis of the major factors at play in the global food and agricultural landscape. Statistics are presented in four thematic chapters, covering the economic importance of agricultural...
This Policy Brief is offered to the Saudi T20 process, as a recommendation to the G20 in 2020.The challenge to produce more food to meet the growing world demand requires a careful, integrated...
This yearly summary reviews the main climate extremes described by the WMO state of the climate preliminary report for 2019 that had an impact on agricultural production according to JRC's agricultural...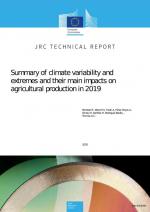 Large-scale modes of climate variability can force widespread crop yield anomalies and are therefore often presented as a risk to food security. We quantify how...