Search results (11)
Showing results 1 to 10
Knowledge service
Foresight
Digital Europa Thesaurus
health policy
public health
Source: WHO, Global Health Observatory (GHO) data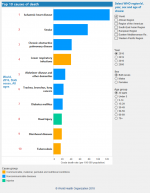 A foresight research about priorities for foods and diets for health, taking into account future challenges and possible long-term developments. It supported the implementation of Horizon 2020, the European...
Air pollution remains the single largest environmental health hazard in Europe, resulting in a lower quality of life due to illnesses and an estimated over 500,000 premature deaths...
​Humanity's health is improving rapidly; life expectancy at birth increased globally from 46 years in 1950 to 71.5 years in 2015, with the 5 years increase between 2000...
Priority should increase for prevention and early detection of diseases rather than cure of the symptoms.Use of AI and big data to identify trends in health by regions, for encouraging prevention of potential...
Ischaemic heart disease and stroke have been the world's top causes of death for the past 15 years (accounting for a combined 15 million deaths in 2015) and are...
World Bank, Tracking universal health coverage: 2017 Global Monitoring Report, (2017)IPES-Food, Towards a Common Food Policy for the European Union; the policy reform and realignment...
Source: OECD Green Growth Indicators 2017 (interactive map)
Source: World Bank indicators, with Millennium Project compilation and forecast; 2015-16 State of the Future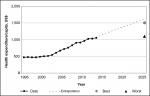 Source: WHO, Global Health Observatory (GHO) data (interactive map)